Kicking Cole Slaw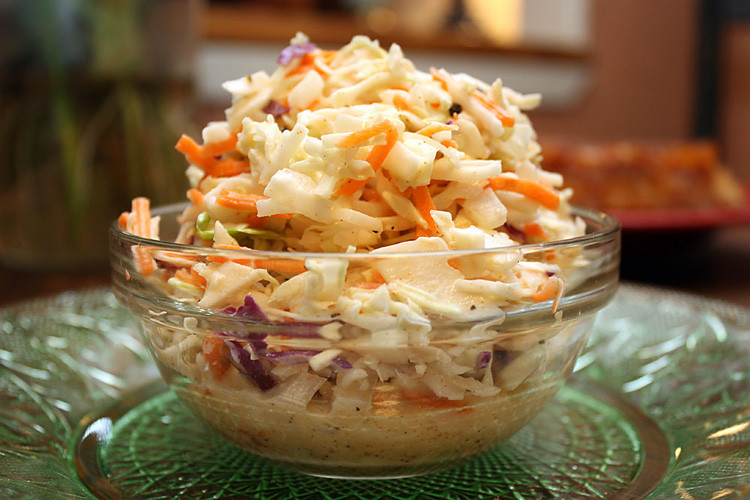 My Kicking Cole Slaw compliments a dish like pulled pork, smoked brisket, hamburgers or taco's perfectly. It's crunchy and will stay that way for days, especially if you shred your own cabbage and stay away from the packaged cole slaw mix.
It's always so tempting to pick up those packages that have the cabbage and carrots already shredded and ready to go but remember that they've been prepared weeks ahead before they got to your grocery store so the shelf life on your cole slaw is going to be brief. I use my Cuisinart food processor with the shredding attachment and it makes the prep for my salads a breeze. I can run an entire head of cabbage through my processor in less than a minute and my cole slaw will last for 3 to 5 days.
My Kicking Cole Slaw is slightly sweet, cool on the palate with just a hint of heat in the background. Best of all it's easy.
Just be sure to make it at least an hour before serving to let the flavors marinate in the fridge! The salad will absorb some of the dressing and I don't like my cole slaw with too much liquid so I'm conservative with the dressing until it's been in the refrigerator for an hour and then I add a little more if it needs it before serving.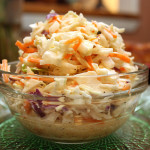 Kicking Cole Slaw
2015-03-09 00:02:45
Ingredients
1 package of slaw mix (1 pound)
1/2 red onion thinly sliced
1/4 cup mayonnaise
1 heaping tablespoon dijon mustard
1 tablespoon red wine vinegar
1 teaspoon kosher salt
1/2 teaspoon pepper
1/4 teaspoon cayenne pepper
1/2 cup sugar
Instructions
Make the dressing first in a large bowl.
Whisk together the mayo, mustard, sugar and seasonings until smooth.
Add the sliced onion and the cole slaw mix, stir and cover tightly.
Let sit in the fridge for at least one hour before serving.
My Mother's Daughter http://mymothersdaughter.net/
Comments