Jalapeno Cheese Bread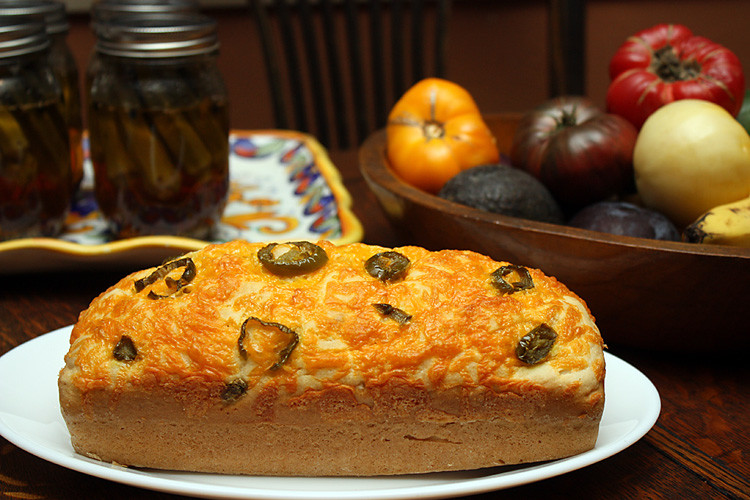 This jalapeno cheese bread is just my beer bread jazzed up with cheese and jalapeno's. My beer bread is a staple around here because it is the most simple bread recipe ever and completely fool proof. I'm really not much of a baker and certainly not a bread maker but you can't mess up beer bread, and the smell is like heaven. As I was throwing a batch together one night I thought about making a Texas version and why not? We are never shy around here when it comes to cheese and jalapeno's and what could be bad about a slice of hot bread with the flavors of Tex Mex running through it? Not a thing! This makes the perfect side car to a bowl of chili or chicken tortilla soup. And I used the leftovers the next day to make a toasted grilled cheese sandwich…talk about delicious! If you can manage to keep beer around the house (no easy task if you're a beer drinker) then the rest of the ingredients are so basic that you will almost always have them on hand. To solve the issue of the beer, I keep a supply of O'Doul's non-alcoholic beer in my pantry. I can pretty much rest assured that no one in my house is going to drink it and it still has the yeast content that you need for most recipes calling for beer. If I have regular beer in the fridge I use that but if we're out I just reach for the O'Doul's and it saves me a trip to the store. It's also a great alternative for those cooks who are adverse to using alcohol products in their food. Best of all, no bread maker in sight and no kneading!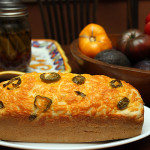 Jalapeno Cheese Bread
2015-03-07 08:26:49
Ingredients
2 1/4 cups flour (you can use all purpose but I prefer bread flour)
2 tbsp. sugar
1 tbsp. baking powder
1 1/2 tsp. baking soda
1/4 tsp. kosher salt
1 12 oz. bottle of beer
2 tbsp. olive oil
3/4 cup shredded sharp cheddar cheese
sliced pickled jalapeno peppers
Instructions
Put the dry ingredients in a mixing bowl and blend on low. Gradually add the beer and oil until smooth.
Fold 1/2 cup cheddar into the batter and blend. Spray a loaf pan with cooking spray and lightly dust with flour. Pour batter into the loaf pan and top with remaining cheddar cheese. Dot the top with the peppers.
Bake at 400 degrees for 40 minutes.
My Mother's Daughter http://mymothersdaughter.net/
Comments