Honey Dijon Chopped Kale Salad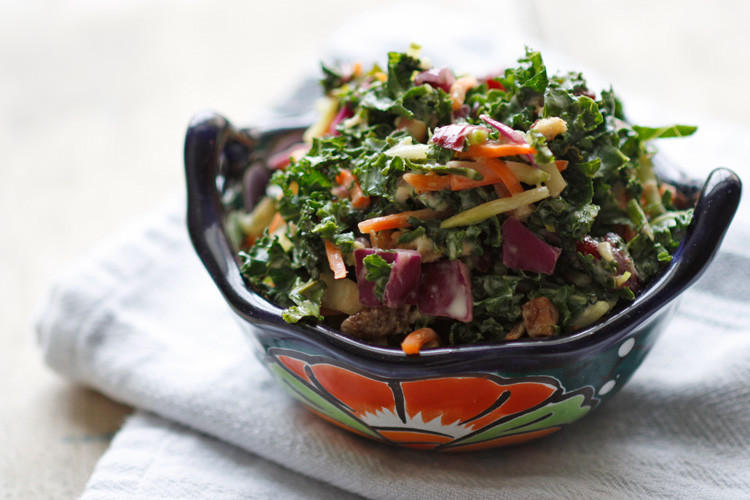 I know I'm not the only one who hopped on the kale salad band wagon this year. You can serve this honey dijon chopped kale salad as a healthy, crunchy and wholesome main dish for lunch or call it the perfect salad to serve as a side dish with dinner. There is something about a side of kale salad on my plate that makes me feel like I've done something very right. And the best part is that it tastes really good…with the right preparation.
Let's face it, kale can be rather bland without the addition of other flavors to enhance the deliciousness of the "green". I like a little salt, a bit of sweet, and most definitely a touch of crunch. This kale salad touches on all of those flavors, blends them into one bowl and when they all come together it's simple and yet just perfect.
One of the best tools in my kitchen these days, next to my Kitchen Aid mixer
, is my Cuisinart 14-Cup Food Processor
because of the durability and efficiency of it's slicing, chopping and shredding attachments.
My prep time on a chopped salad is next to nothing because of this little work horse – the slicer takes a head of kale, with the ribs removed, and turns it into chopped kale in less than a minute.
Same thing with cabbage and carrots, just stick them through the shoot and BAM! If you're still chopping by hand the prep time will take you a little longer but will still be worth it!
What I love best about a kale salad is that you can dress it and it will still stay fresh in the fridge for several days, it just stands up better over time and if anything, becomes more flavorful.
Enjoy!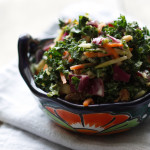 Honey Dijon Chopped Kale Salad
2015-03-07 08:56:46
Ingredients
1 bunch of kale, ribs removed
1/4 head red cabbage
2 carrots
1/4 cup dried cranberries or raisins
1/4 chopped nuts, pecans or walnuts
1/4 cup red wine vinegar
1 tbsp. Dijon mustard
1 tbsp. honey
1/2 tsp. kosher salt
1 garlic clove
1/2 cup olive oil + 2 tbsp.
fresh pepper
Instructions
Start by making your dressing in a blender. Pulse the vinegar, mustard, honey, salt and garlic to combine. With the motor running, slowly add the oil through the top. Season with salt and pepper and set aside.
Remove the ribs from the kale and chop. If you're using a food processor you will use the slicer attachment. Add to a large bowl and do the same with the red cabbage. Next, shred your carrots, you will use the shredder attachment if you're using a processor, otherwise a hand shredder to make them into a fine shredded consistency. Toss all the vegetables in the bowl until mixed. Add the cranberries and nuts.
Toss with about 1/4 cup of the dressing, let stand for 20-30 minutes. Add more dressing before serving if necessary.
My Mother's Daughter http://mymothersdaughter.net/
Comments