Hoisin Short Ribs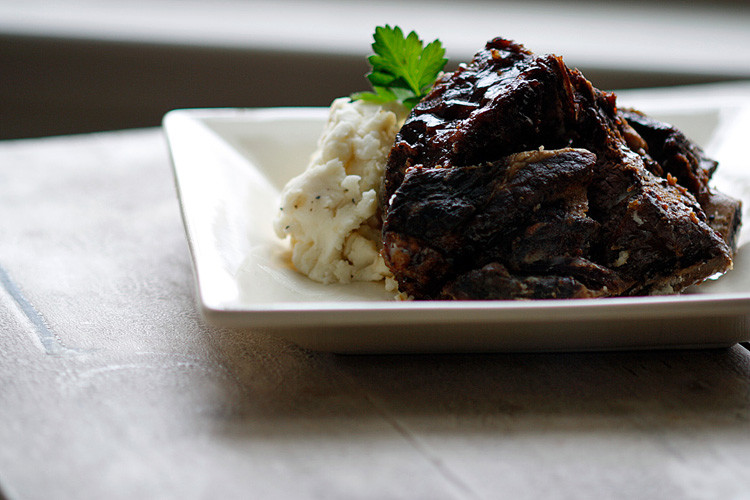 Make sure that you select these Hoisin short ribs out of the butcher's case so that you get a nice marbling but not a slab of fat – that is NOT a good thing on a short rib!
Short ribs used to be an inexpensive cut of beef, not so these days. You will pay on average, $5 to $8 per pound for short ribs and there is a lot of shrinkage during the braising process so despite the size prior to cooking, plan on 2 to 3 ribs per person for dinner.
When you come home from the grocery store with a big package of shorts ribs it will seem like a lot of meat when you're searing them and crowding them in your dutch oven to braise but when you pull the lid off after a few hours in the oven you will see that the ribs have reduced to half their original size. Do not despair, they are totally worth it!
You need little else when serving these hoisin short ribs for dinner, they are rich and full of flavor. I serve them with smashed garlic potatoes on the side, some snap peas or a kale salad and some nice crusty french bread.
When they have finished braising they should slide right off the bone and on to the plate for serving but I usually try to leave the bone on if possible just for show.
Enjoy!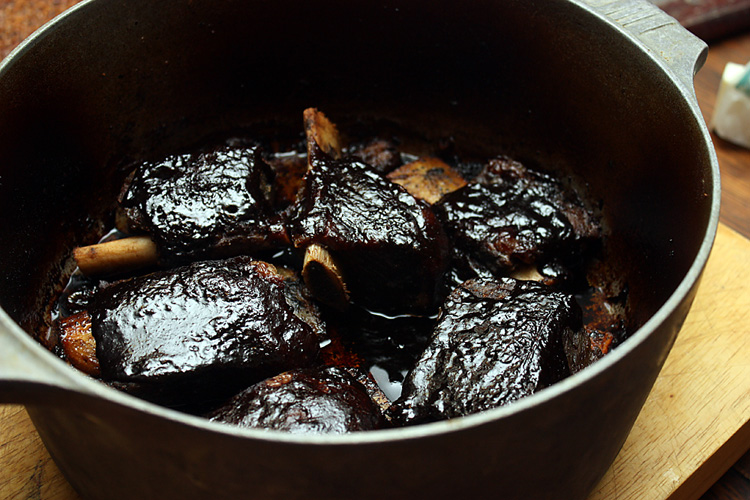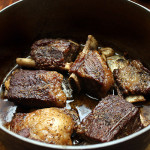 Hoisin Short Ribs
2015-03-07 21:34:30
Ingredients
5 lbs. short ribs
salt & pepper
vegetable oil
10-12 garlic cloves smashed
1 one inch piece of fresh ginger sliced in thin pieces
3 tbsp. rice wine vinegar
1 bottle of beer
1/2 cup Hoisin Sauce
Instructions
Salt and pepper the short ribs generously. Coat the bottom of a large heavy dutch oven with vegetable oil and sear the short ribs in batches, remove and let the pot cool to medium heat.
Cook the garlic and ginger over medium heat for 3 minutes. Add the beer and rice vinegar, stir. Add the ribs back to the pot.
Cover and cook for 3 hours at 325 degrees, turning the ribs halfway through.
Pull the ribs out of the pot and place them in a large cast iron skillet. Spoon a little of the braising liquid over the ribs until they are coated and about 1/4 inch remains in the bottom of the skillet.
Brush the hoisin sauce over the tops of the ribs, return to a 375 oven for 10-15 minutes or until the ribs begin to brown.
My Mother's Daughter http://mymothersdaughter.net/
Comments