Grandma Denoya's Apple Pie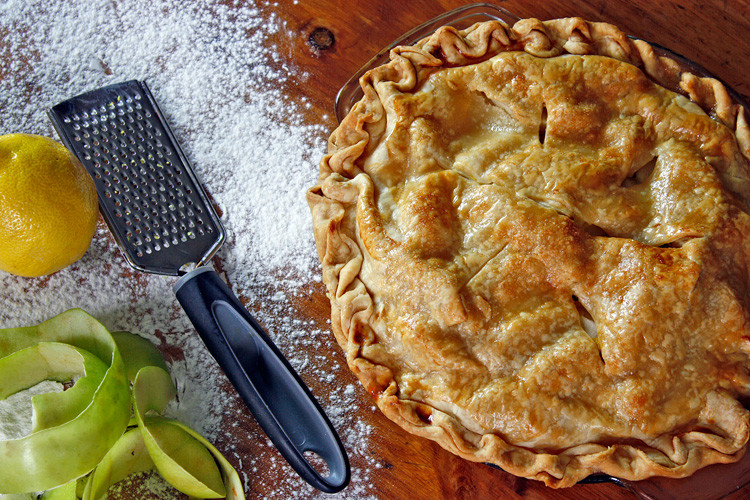 Grandma Denoya's Apple Pie was handed down by my great grandmother, Teresa Morrisey Denoya, an Irish immigrant from County Cork, Ireland. Grandma Denoya somehow found her way to Ponca City, Oklahoma at the age of 14 and eventually married my great grandfather, Francis Denoya, an Osage Indian with whom she had 6 children. Once upon a time there was a small town in Oklahoma called Denoya which was named after my great-grandfather.
This was a little oil boom town that pretty much dried up when the petroleum reserves were exhausted after the depression and little of Denoya remains today. Just a few run down buildings and a few old, run down homes are all that is left.
The town of Denoya was also known as "Whizbang" which, according to Wikipedia, was a nickname given to the town, after the madame of the local brothel who called herself Whizbang Red. Customers planning to visit her establishment said they were going to see "Whizbang" and the name was quickly applied to the whole town.
I never had the pleasure of meeting my great-grandfather and my memories of Grandma Denoya are vague as she passed away when I was in grade school but I often like to imagine the stories they could have shared about Whizbang, Oklahoma back in the day!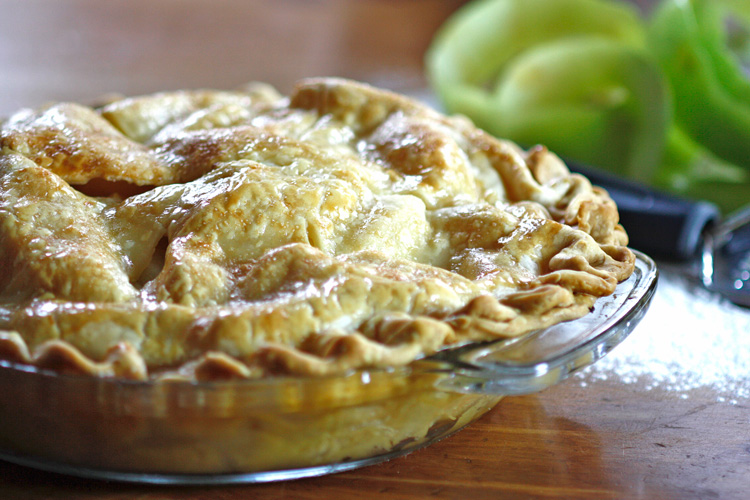 My mother spent most of her childhood under the watchful eye of Grandma Denoya. Grandma was a devout Catholic with a thick Irish brogue and she was a strict disciplinarian, not to mention an amazing cook. My mother would tell us stories of Grandma Denoya strolling out to the backyard, picking out a chicken for Sunday dinner and wringing it's neck in one fell swoop.
The woman took no prisoners, if you were smart you didn't cross her and without question my mother worshiped the ground the woman walked on. And my mom always gave credit to her grandmother for teaching her how to cook in the simple, old fashioned style that carried her through to the end of her life.
Grandma Denoya's Apple Pie is all about the lemon zest. It's the crucial ingredient so don't skimp! And you want the juice of the lemon too but be sure to zest first! It makes the perfect apple pie.
Enjoy!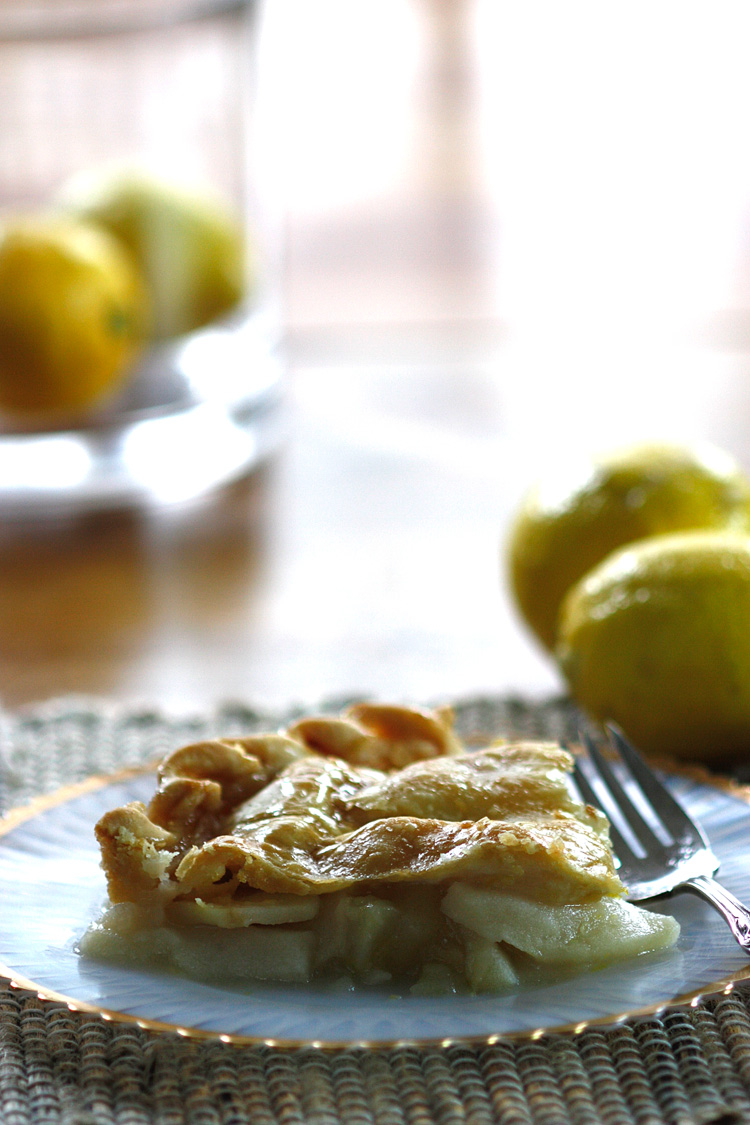 Grandma Denoya's Apple Pie
2015-03-09 09:33:26
Ingredients
2 prepared pie crusts
5 large or 7 small granny smith apples
3/4 cup sugar
2 TBSP. flour
2 TBSP. butter sliced
1 whole lemon zested
juice of one lemon
1 extra tsp. sugar
Instructions
Preheat oven to 425 degrees.
In a large bowl whisk together the flour and sugar. Peel and slice the apples, toss in the flour and sugar mixture.
Spray a pie plate with Pam and place one crust on the bottom. Put the apple slices in the pie pan. Pour any remaining flour and sugar mixture that's left in the bowl over the top of the apples. This is when I decide if I have the right amount of apples. I like to have them piled into a nice mound, if it looks too flat I just add an apple to the mix to make the pie nice and full.
Zest a lemon then cut the lemon in half and squeeze all of the juice over the apples. Put the zest over the top and dot with butter slices.
Cover the top with the remaining pie crust.
Make the egg wash either with an egg and a splash of water or if you have cream I like to use a splash of cream with my egg. Brush the egg wash on the crust but not the edges. Sprinkle remaining teaspoon of sugar over the top. Cut several slices in the top to vent.
Bake at 425 degrees for 15 minutes, reduce heat to 350 degrees and bake for an additional 50 minutes. I usually cover my pie crust loosely with a piece of foil about 20 minutes after lowering the temperature to 350 degrees to prevent it from over browning.
My Mother's Daughter http://mymothersdaughter.net/
Comments