Curried Chicken Salad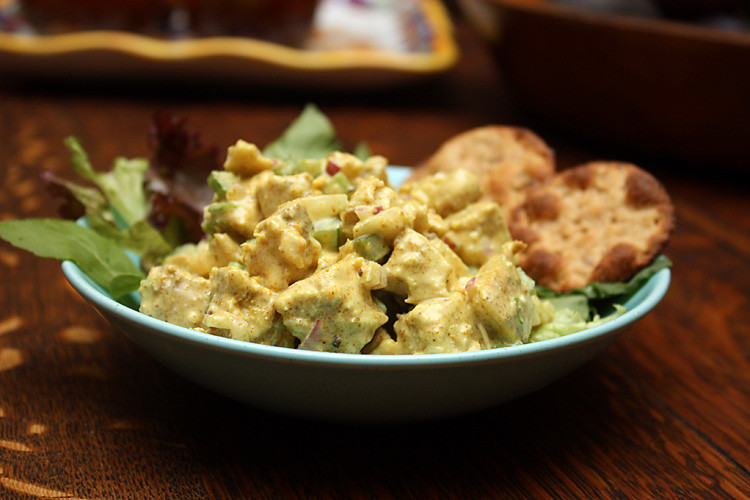 The world went a little crazy a few years back over the big break up of "TomKat" and that's where this Curried Chicken Salad recipe came from oddly enough. I couldn't pick up a magazine without reading about Katie Holmes! Where she was going, what she was doing, even where she was buying her groceries in NYC. So funny.
I found this chicken salad recipe in People Magazine one day while browsing a a story about where Katie & Suri like to go to lunch. Because we all want to know, right? It's little place called Alice's Tea Cup where they serve Curried Chicken Salad and it is to die for.
According to my literary sources, which are totally trustworthy by the way, Ms. Holmes ordered (or at least used to order) this chicken salad every single time she went to Alice's Tea Cup and she always ordered an extra container to go. This isn't hard to believe because this stuff is good and it's also super simple to make!
What I love about it most of all is that it isn't strong on the curry, it's almost hard to identify what that subtle "bite" is that gives this chicken salad it's own unique flavor. And where most are missing that little sweetness of a relish, the preserves or jam bring just the right amount of sugar and citrus to the party. It's simply the perfect blend of flavors and after I made it once, I didn't change a thing.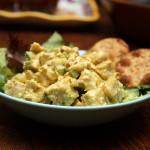 Curried Chicken Salad
2015-03-07 19:20:58
Ingredients
4 chicken boneless skinless breasts
2 TBSP. curry powder
1/4 cup apricot jam
1/4 cup sour cream
1/4 cup mayonnaise
1/4 cup diced celery
1/4 cup diced red onion
kosher salt
cracked black pepper
Instructions
Preheat oven to 350 degrees. Rub the chicken breasts with 1 TBSP. of the curry powder and place on a baking sheet that has been lightly coated with cooking spray. Bake for 20 minutes or until a meat thermometer registers 135 degrees in the center. Remove and let cool. Chop and set aside in a large bowl with the celery and red onion.
In a separate bowl make your dressing by whisking the remaining curry powder, jam, sour cream and mayonnaise together. Fold the dressing into the chicken, celery and onion. Then add salt and pepper to taste.
I don't like my chicken salad too wet so I like to add my dressing to my chicken gradually until I get the right consistency. I still had some dressing left over so I saved it and this was a brilliant move because it made a perfect swipe on my bread later on when I made sandwiches!
Adapted from People Magazine
My Mother's Daughter http://mymothersdaughter.net/
Comments