Crispy Parmesan Fries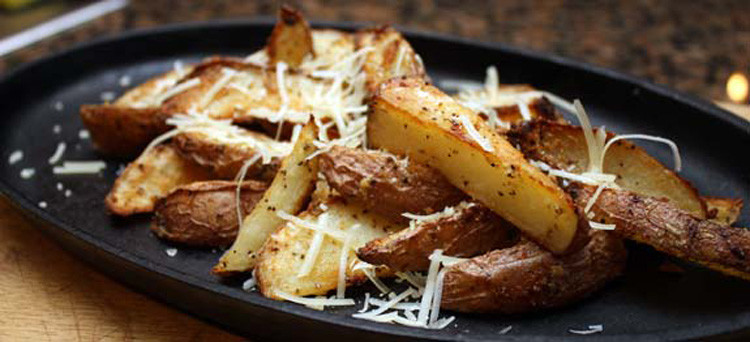 I've seen this crispy parmesan fries recipe making the rounds lately in various forms so I played around with it and made a few changes here and there.
The biggest difference is using granulated garlic because I think it does better in a hot oven, fresh tends to burn on fries at 400 degrees. I used to use fresh garlic all the time and always ended up with fries that smelled slightly burnt, not very appetizing. One night I reached for the granulated garlic and there's been no going back – it's perfect.
The biggest secret to oven baked crispy parmesan fries? Soaking them in ice cold water for at least an hour to draw out the starch. You will actually see it when you drain the fries and you're left with this sticky white goo at the bottom of the bowl – that's the (bad) stuff that makes your fries soggy when they don't hit hot grease (also bad). I wish that I could take credit for this stroke of genius but in truth, I saw it on an episode of Pioneer Woman. Gotta give credit where credit is due!
So, try to take the time to let them soak, you will get a crispier baked fry and be a lot happier with the results.
I'm using red potatoes in this recipe but any kind of potato would be delicious!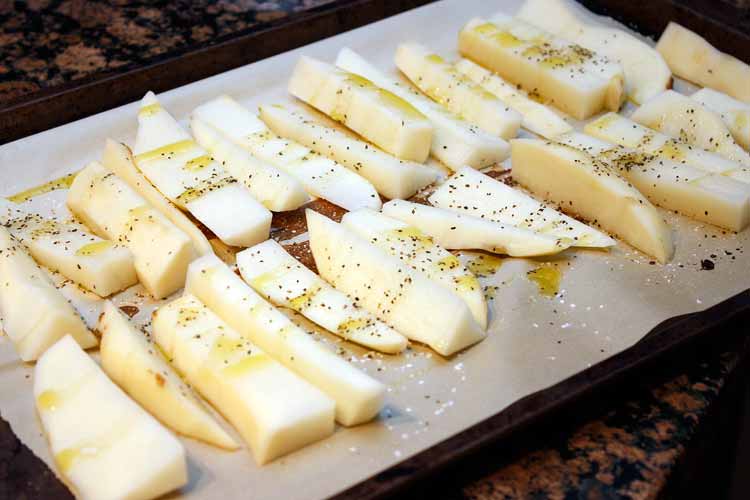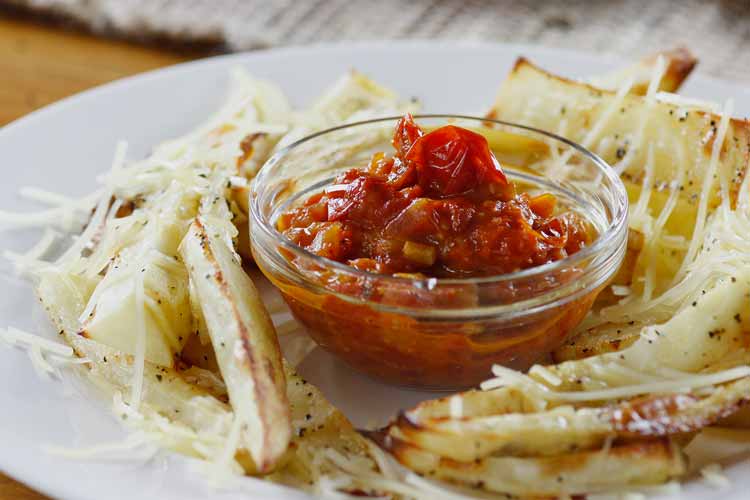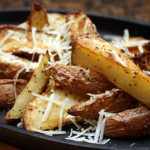 Crispy Parmesan Fries
2015-03-08 09:38:58
Ingredients
4 medium red potatoes skins on
olive oil
1/2 cup grated parmesan cheese
1 tsp granulated garlic
kosher salt
pepper
1/4 shredded parmesan cheese
Instructions
Wash and slice the potatoes into fries, skins on. Put into a bowl filled with ice water and soak for about an hour (at least 30 minutes for a crispier fry).
Drain the fries patting them dry, rinse the bowl to remove the starch and dry. Put the fries back into the bowl, coat lightly with olive oil - about 2 tbsp.
Add the granulated garlic and grated parmesan cheese. Gently stir to coat. Add salt and pepper to taste. Transfer to a baking sheet covered in foil or a cast iron griddle
Bake at 400 degrees for 40 minutes or until the potatoes or nicely browned turning every 20 minutes. Remove from oven and sprinkle with shredded cheese.
My Mother's Daughter http://mymothersdaughter.net/
Comments