Cream Cheese Braids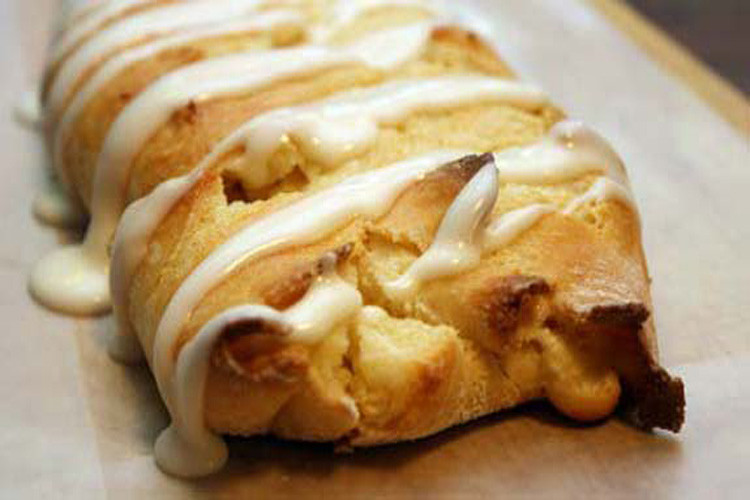 I found this cream cheese braids recipe years ago in Southern Living Magazine. It became a Christmas tradition and I used to start an assembly line and give them as gifts to the girl's teachers.
It works best if you have your favorite Christmas movie on the DVD player. It's A Wonderful Life is usually running full speed as I begin my annual mission of braid making. It isn't difficult (really!) but it does take time since the dough needs to spend the night in the fridge before you roll it out the next day and let it rise.
I wouldn't have made the braids over and over again, year after year if they weren't worth the effort. David goes crazy when I have cream cheese braids in the house!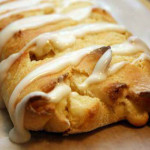 Cream Cheese Braids
2015-03-09 16:31:21
Ingredients for bread
1 cup sour cream
1/2 cup sugar
1 teaspoon salt
1/2 cup margarine or 1/2 cup butter, melted
2 packages dry yeast
1/2 cup water
2eggs, beaten
4 cups all-purpose flour
Ingredients for filling
2 (8 ounce) packages cream cheese, softened
3/4 cup sugar
1egg, beaten
1/8 teaspoon salt
2 teaspoons vanilla
Ingredients for glaze
2 cups powdered sugar
1/4 cup milk
2 teaspoons vanilla
Instructions for bread
Heat sour cream over low heat. Stir in sugar, salt and butter; cool to lukewarm.
Sprinkle yeast over warm water in large bowl until dissolved. Add sour cream mixture, eggs, flour, and mix well.
Cover tightly and refrigerate overnight.
Instructions for filling
Mix well.
Divide dough from the day before into 4 equal parts.
Roll each part on a floured surface to an 8x12 inch rectangle.
Spread one quarter of the filling on each rectangle, and roll jelly roll style beginning at the long side.
Pinch edges together and fold ends under slightly. Place rolls seam side down on greased baking sheets. Slit each roll at 2-inch intervals to resemble braid.
Cover and let rise 1 hour, in a warm place until dough doubles in bulk.
Bake at 375 degrees for 12 to 15 minutes.
Spread with glaze while warm.
Adapted from Southern Living Magazine
My Mother's Daughter http://mymothersdaughter.net/
Comments