Classic Chocolate Pie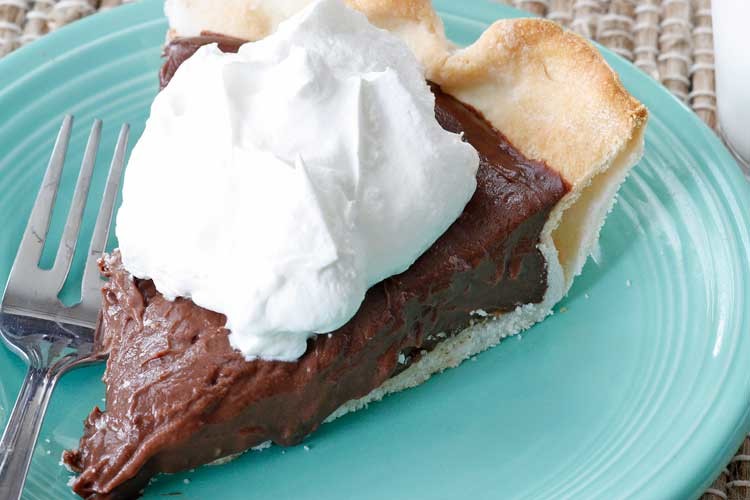 There's nothing very fancy or complicated about a Classic Chocolate Pie recipe. There's also nothing better than a slice of real, honest to goodness, made from scratch chocolate pie. A frozen variety or even one from the bakery just isn't the same and to make the original takes little if no effort. Spoiler alert: I do not make my own pie crusts so that certainly saves me some time.
This is a very old, classic recipe using Hershey's Cocoa and I like it that way. If you want to get fancy and use a more expensive cocoa then go for it but please DO NOT use a store brand cocoa or any kind of generic variety. It's one of those times when it isn't worth saving a buck so don't do it. And you will want to use whole milk, not 2% or skim. Again, it isn't worth the calories you will save to have a thin, soupy filling. The whole milk is what helps the pudding thicken into the firm consistency that you need for a pie.
As for the topping, my husband is not a meringue fan so I use whipped cream on top of my chocolate pie. I love a nice meringue but I don't miss it and I think the whipped cream is perfect on top of the rich chocolate filling. I love to top it with real whipped cream but will use Cool Whip if I'm not going to be serving the entire pie all at once – fresh whipped cream will separate over a short period of time so it doesn't store well.
So here's the top secret recipe for an old fashioned classic chocolate pie, ha! It is so simple, fast and inexpensive to make. And man, is it good!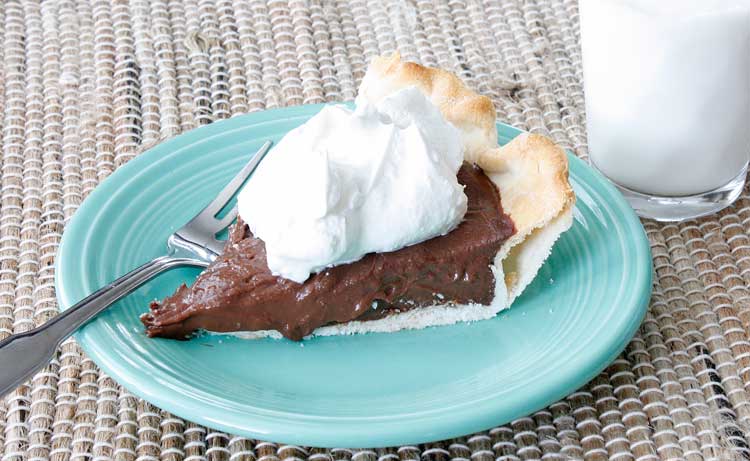 Classic Chocolate Pie
2015-11-01 16:09:46
Ingredients
1 cup sugar
1/2 cup flour
1/2 cup Hershey's Cocoa
2 cups milk
2 egg yolks
2 TBSP. butter
1 tsp. vanilla
1 baked pie crust
Cool Whip or Whipping Cream with 2 TBSP. sugar
Instructions
Begin by adding all of the dry ingredients in a heavy saucepan. Use a whisk to blend everything together. Whisk in the milk and egg yolks. Cook over medium heat, stirring constantly until it begins to thicken. It will take about 10 minutes. Add the 2 TBSP. of butter and the vanilla. Let cool for a few minutes and then pour into the baked pie crust. Cover the top of the filling with plastic wrap and put into the refrigerator until cool. Top with whipped cream, either fresh or Cool Whip.
If you're making fresh whipped cream put a small carton of cream into a mixing bowl, beat on high until it starts to form peaks. Add 2 TBSP. of sugar and beat until stiff. Be very careful or the cream will turn into butter at this stage...don't let it go too far!
My Mother's Daughter http://mymothersdaughter.net/
Comments