Christmas Tree Cookies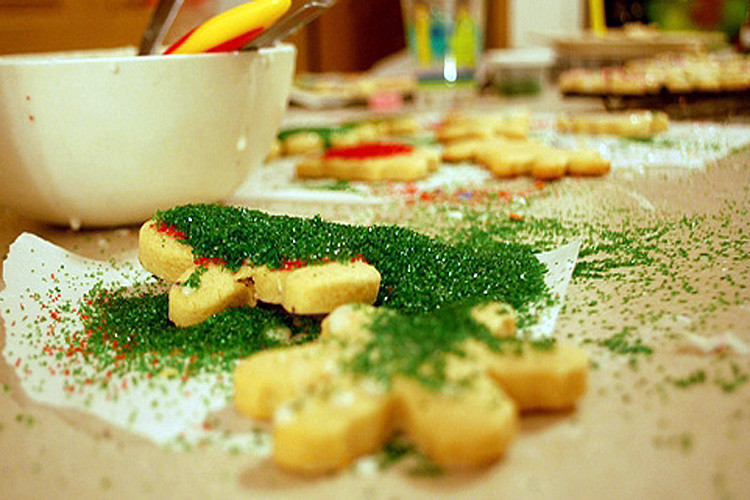 This recipe is the secret to my brother's famous "Christmas Tree Cookies". It's an easy recipe, the cookies taste great and the shape makes them so festive…they're the perfect Christmas Cookie.
My little brother Rick loves everything about Christmas. He is so enthusiastic about all things Christmas, including the movies, that he named his son Bailey after (you guessed it) George Bailey from It's A Wonderful Life.
Rick and I were only 2 years apart so most of my childhood memories at Christmas time include my little brother. We would throw the old fashioned tinsel on the tree together as kids and get fussed at by our mom for putting too many strands on at the same time. The two of us thought mom's Firestone Christmas albums were the best ever and Rick has even gone to the trouble of copying them onto CD's for us to play these days. Who else but my brother could possibly love Vic Damone crooning "Have Yourself A Merry Little Christmas" as much as I do?
Above all else, we love the food traditions that come with the holiday season. Some years ago my brother Rick served as a dentist in the U.S. Navy and was stationed in Chicago. The Chicago Tribune ran a contest for the best Christmas cookies in the Chicago land area. The newspaper promoted the contest in early September and announced the winners just after Thanksgiving. There were three 'champions' and Rick's Christmas Tree Cookie was NUMBER ONE. He made our mother proud!
Rick and his family make about 10 different kinds of Christmas 'treats', including many different cookies, but this is the one that makes the kids happy and they can never make enough!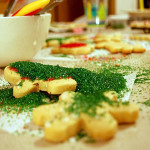 Christmas Tree Cookies
2015-03-09 10:10:59
Ingredients
2 ½ cups flour
1 cup sugar
1 cup (2 sticks) butter
1 ½ TSP baking powder
¼ TSP salt
½ TSP almond extract
1 large egg
¼ cup green sugar crystals
¼ cup confetti or nonpareil candy decorations
Instructions
Put flour, sugar, butter, baking powder, salt, almond extract and egg into large stand mixer. Mix at low speed. Dough will be crumbly… then knead with hands until mixture holds together.
Remove 1/3 cup of dough, wrap, and refrigerate. You'll use this later for the tree trunks.
Divide remaining dough in thirds. Using hands, roll each into a 6 inch log.
Put sugar crystals on sheet of wax paper.
Roll each log in the crystals to coat well; using the wax paper as a guide to press in the crystals. Shape each log into a triangle, pressing gently on the wax paper to form sharp angles. Make sure to make two sides longer than the third side. Keep the log at 6 inch length for large cookies.
Wrap each log well and refrigerate for a minimum of 4 hours. Can make up to one week in advance.
Heat oven to 350 degrees.
Slice logs crosswise into 1/4 inch slices. Place 1 inch apart on cookie sheet.
Shape ~ 1/2 tsp of the 1/3 cup dough into tree trunks.
Sprinkle cookies with decorations.
Cook 10 minutes. Cool on wire rack.
Notes
Option: Can vary sizes of 3 logs and use to make larger cookies using a three-tiered tree.
Adapted from Rick Rogers
My Mother's Daughter http://mymothersdaughter.net/
Comments