Chocolate Delight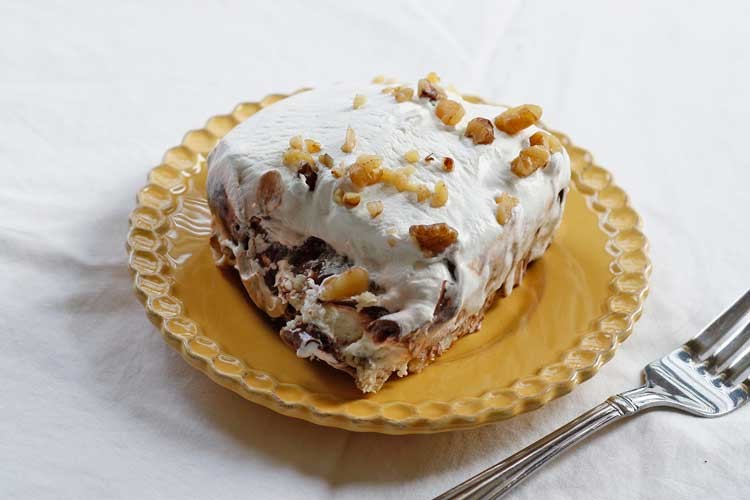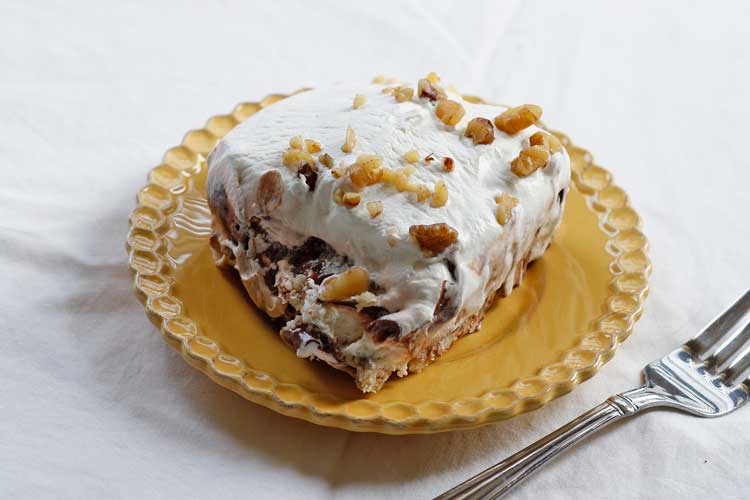 I have always loved this somewhat retro dessert called Chocolate Delight…it's creamy, full of chocolate and very decadent. If you walk into a summer get together in the south you can almost bet there will be a dish of Chocolate Delight on one of the tables, it's just something people do when the weather gets warm and someone is asked to bring a dessert.
I just love the crunch of the shortbread crust, the cream cheese layer topped with creamy chocolate pudding. Finally, the cool whip on top and that final sprinkling of nuts! It just has that perfect crunch from the crust and then from those nuts on the topping. I'm in heaven when I have a dish of Chocolate Delight on my lap!
So, jot down the list of ingredients and line them up, that's really all there is to this recipe. It's so simple, nothing to it. After crisping up the shortbread crust in the oven for a few minutes, just throw it all together and then it's in to the fridge to chill. The ingredients are minimal and you can double or triple this recipe easily. That's all there is to the perfect summer dessert. And the minute everyone eyes that Chocolate Delight on the dessert table they'll be loading up on IT before they hit the main dish!
Enjoy!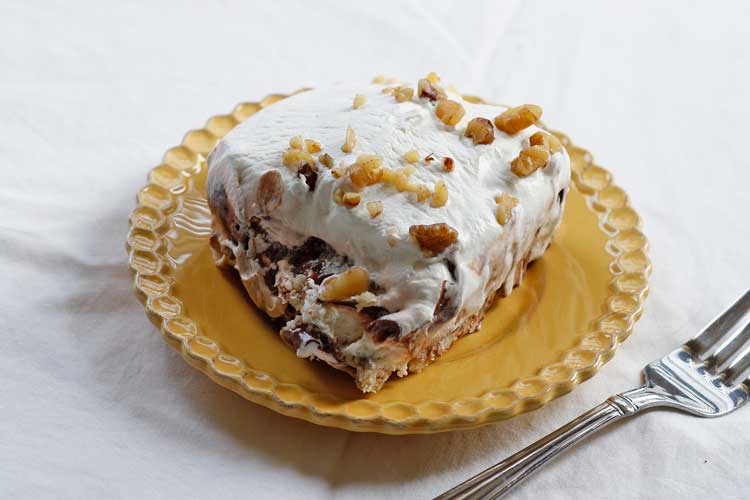 Chocolate Delight
2015-07-24 07:31:36
Ingredients
1 1/2 cups flour
1 1/2 cups chopped pecans plus 1/4 cup for topping
3/4 cups margarine (softened)
1 1/2 pkgs. (12 ounces) cream cheese (softened)
2 cups confectioners' sugar
3 cups Cool Whip
3 (4 ounce) packages instant chocolate pudding mix
4 1/2 cups milk
1 container Cool Whip for topping
Instructions
Mix flour, chopped pecans, and margarine together. I use my hand pastry blender and chop it all together in a large glass bowl to get the right consistency. Nice little crumbles. Press into a 9 x 12 baking dish and bake at 350 degrees for 20 minutes.
Mix cream cheese, confectioners sugar, and cool whip. Spread mixture on cooled crust, set aside.
Mix instant pudding with milk. Mix briskly with a blender until it starts to thicken. Put this mixture on top of cream cheese mixture. Top with cool whip (as much as you want) and a few chopped pecans. I used about 1/4 cup.
Adapted from Food.com
My Mother's Daughter http://mymothersdaughter.net/
Comments