Chicken & Dumplings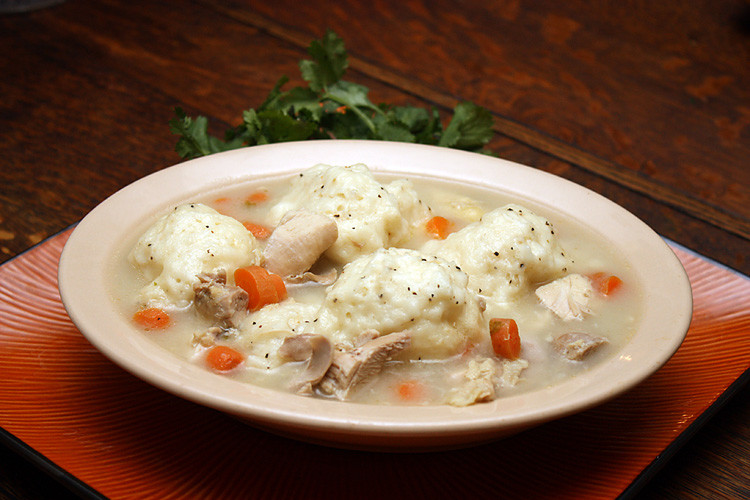 Everyone has "their way" to make chicken & dumplings. I've had them made with biscuits and a million other ways.
Don't get me wrong – I'm not turning down dumplings any day of the week, I'll take them any way I can get them but, Bisquick is my personal weapon of choice when it comes to making one of my all time fall favorites.
Here's the deal on the chicken..
I don't really like to stew an entire chicken because I don't need that much dark meat in my dumplings and I don't want my stock super greasy either and a whole bird has a lot of fatty skin.
I do, however, want the flavor that a nice chunky thigh will lend to the party so I throw a package of thighs into the pot with my veggies and let them create a nice, flavorful stock. I'll let the thighs simmer for a good 30 minutes for flavor and then open a package of those frozen, boneless chicken breasts that we all keep in the freezer these days – just pop 4 of those babies in the stock right from the freezer.
Let them roll for another 30 minutes total (it will take 5 or 10 minutes for the broth to come back up to a boil) and they're done.
Now it's time to pull all of the meat out of the stock and let it cool in the fridge while you strain your stock.
If you like dark meat in your dumplings then save your thighs and clean the meat off the bone after it's nice and cool – otherwise just throw it out.
Of course, you can always use a good boxed chicken broth and skip making your own and that's okay too. Just use a rotisserie chicken cleaned and add plenty of chicken stock, proceed to the steps where I make my dumplings. You will need to add a little more salt and cracked pepper to the stock and more water to the pot as the dumplings start to thicken the broth. Nothing could be easier and it will still taste like homemade chicken and dumplings!
Enjoy!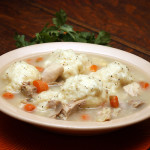 Chicken & Dumplings
2015-03-07 20:42:38
Ingredients for stock
1 pkg. chicken thighs (4 to 6 thighs)
1 cup baby carrots
2 celery stalks roughly chopped
1 onion quartered
1/2 tsp. whole peppercorns
2 tsp. kosher salt
fresh cracked pepper
2 tsp. chicken bouillon (approx)
4 frozen boneless chicken breasts
Ingredients for dumplings
2 1/4 cups Bisquick
2/3 cup whole milk
pinch of salt and pepper
Instructions
Cut the vegetables and place in a large dutch oven. Add the thighs and bring to a boil. Simmer for 30 minutes. Add the breasts, simmer for another 20 minutes. Remove the chicken and place in the fridge to cool.
Strain the broth over a collander into a large bowl, reserving 1/2 cup of the carrots for later use. Discard the rest of the veggies. Return broth to the dutch oven.
Mix the dumplings and let them sit on the cabinet for about 10 minutes to rise a bit. You may want to double the recipe, depending on how many dumplings your dutch oven can hold.
Add water to the broth, about 3 cups to bring the level of the stock in your dutch oven about 2/3 full. At this point I add my chicken bouillon and salt and pepper to taste until my stock tastes just the way I like it. It usually calls for about 2 teaspoons of bouillon but add a little at a time or it could end up too salty.
Pull the chicken from the fridge, cut into bite size pieces and add to the pot. Keep the broth at a low, rolling boil. Add the reserved carrots back to the broth. Add dumplings to the pot, cover the pot and let simmer for 10 minutes. Remove the lid and let simmer for another 15 minutes.
My Mother's Daughter http://mymothersdaughter.net/
Comments