Cherry Berry Crunch Crumble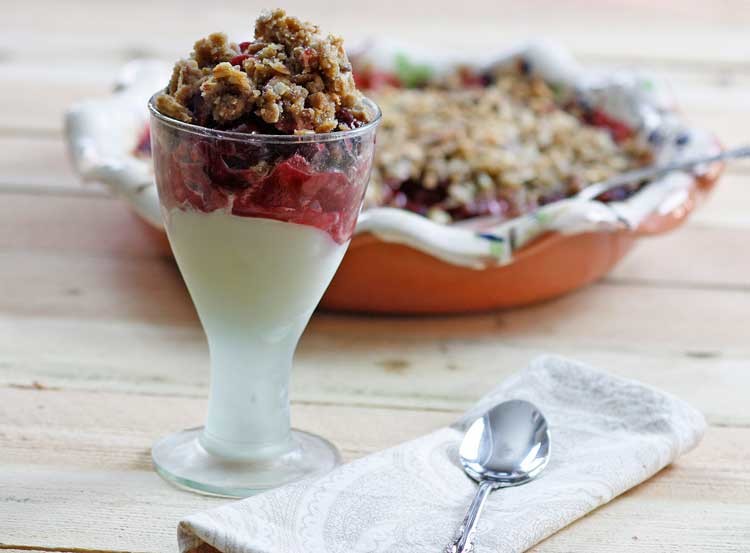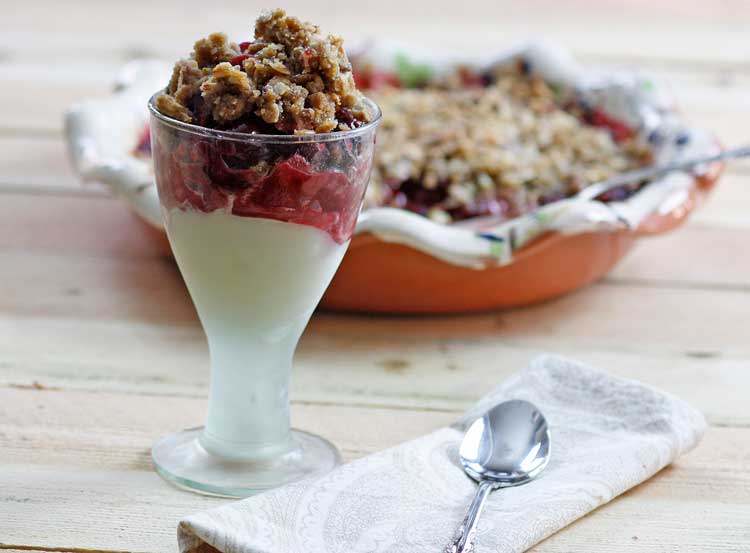 My Cherry Berry Crunch Crumble sort of evolved and came together over time and the end result is one of my most favorite desserts ever. I've always been a fan of cobblers and crumbles…they just say "summer" to me more than a pie for some reason and best of all they're super easy to throw together.
For this crumble I threw in 2 cups of strawberries and a half pint of raspberries along with a one pound container of delicious bing cherries. Cleaning and pitting one pound of cherries is enough to test my patience and the strawberries and raspberries add a wonderful contrast of flavors that I think is perfect. But you can go cherries all the way or get creative and add whatever you like. I always add the zest and juice of a lemon to any type of fruit dessert before baking and this was no exception, so zest and squeeze!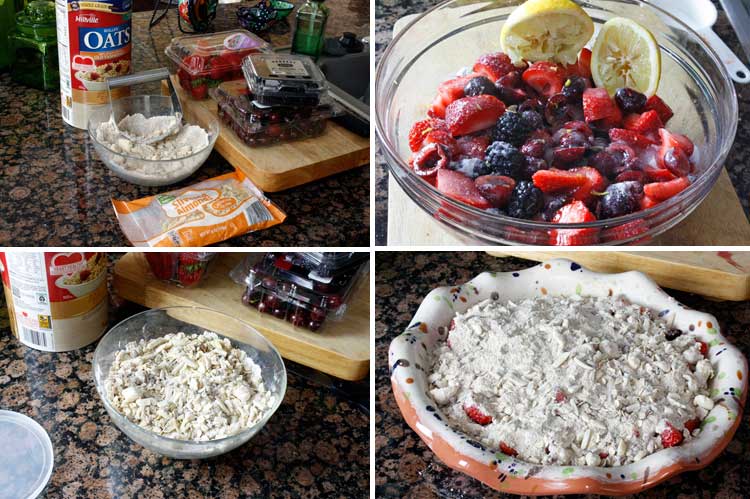 For the crumble topping I used slivered almonds and pecans with the oats and brown sugar. I love the slightly salty taste the nuts brought to the party – just the perfect blend of flavors on this topping.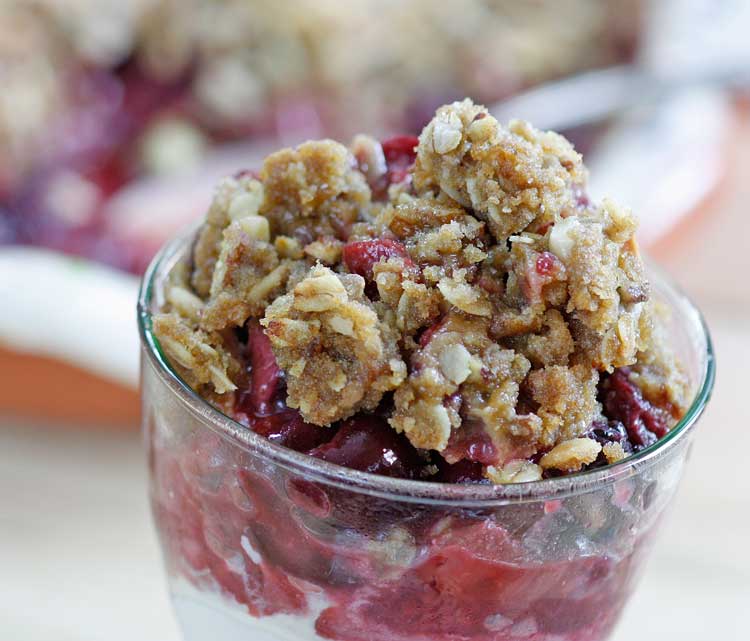 I used one of my favorite stoneware dishes that I like to use for these kinds of desserts but any kind of glass baking dish in the 11 x 9 range will work. I love this dish. If my house were on fire I would grab my dishes before my clothes. I think that might make me crazy.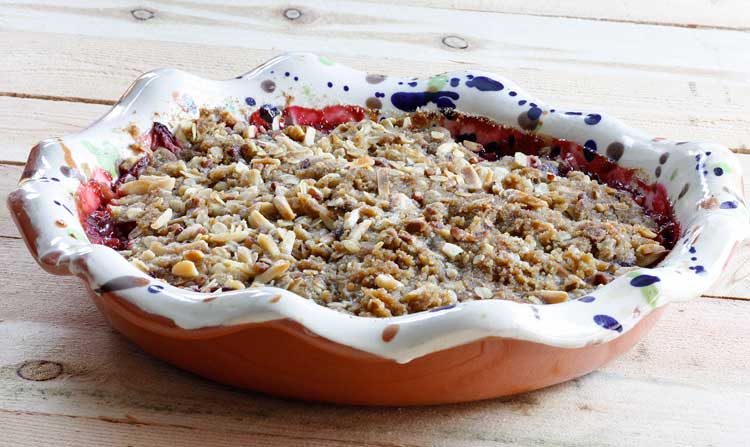 Be sure to serve this over plain vanilla ice cream. That's all you need. The fruit is sweet, the almond and pecans just a little salty with the extra touch from the brown sugar and oats on top…this makes the perfect topping on a cold dish of ice cream.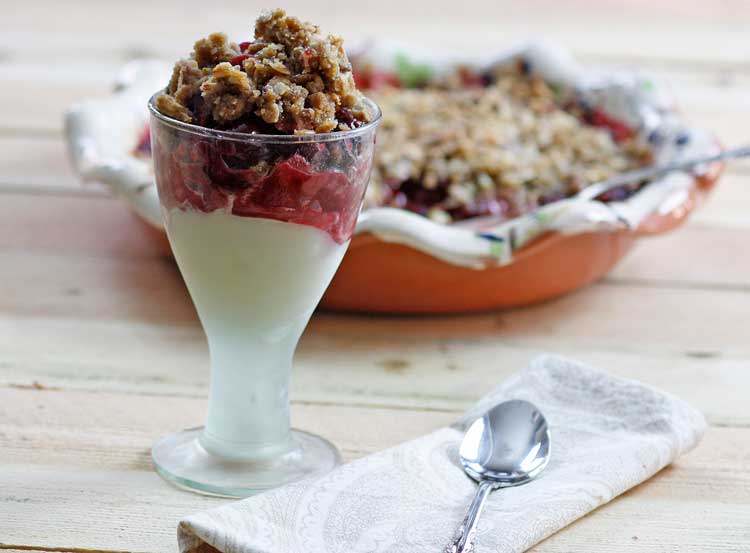 Cherry Berry Crunch Crumble
2015-06-14 07:39:31
Ingredients
1 lb. cherries (about 2 1/2 cups) halved and pitted
1 lb. strawberries (about 2 1/2 cups) sliced
1/2 pint raspberries
1 lemon, zest and juice
3/4 cup flour
2/3 cup brown sugar
1/3 cup white sugar
1/2 tsp salt
1/2 TBSP corn starch
6 TBSP. cold butter cut into small cubes
1/2 cup oats
1/2 cup slivered almonds
1/2 cup chopped pecans
Instructions
Combine all dry ingredients except the WHITE sugar and the corn starch in a bowl, cut in the cold butter cubes with a pastry cutter or fork until blended. Mix in the oats and nuts. Set aside.
In another bowl combine the fruit, white sugar, zest and juice from one lemon. Mix well. Add the corn starch and stir. Spray 11 x 9 baking dish with cooking spray, pour the fruit into the pan. Sprinkle topping over the fruit, dot with a few extra pats of butter.
Bake in a preheated oven at 375 for 45 minutes. Let cool completely before spooning over ice cream.
My Mother's Daughter http://mymothersdaughter.net/
Comments