Charred Corn Salad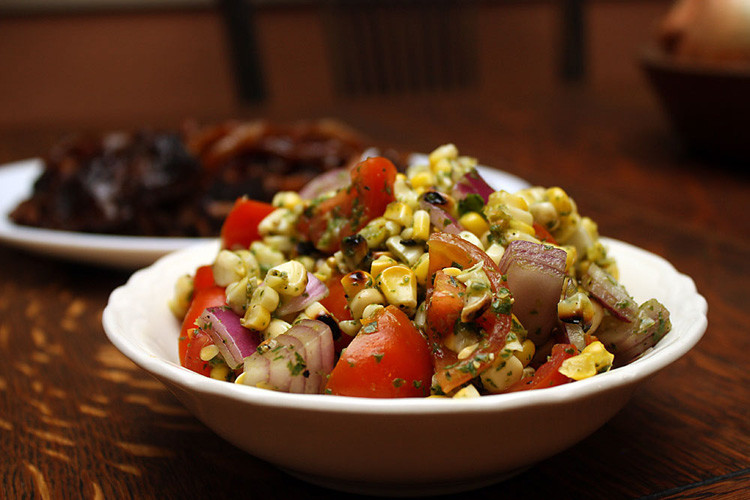 I saw this charred corn salad recipe on Kelsey's Essentials last weekend (The Cooking Channel) and thought I'd give it a try the next time I put together a BBQ dinner.
The flavors were perfect – summer in a bowl. There are few ingredients going on here, just the corn, some red onion, olive oil, vinegar and seasonings. But corn is a magical thing isn't it? It's full of sugar and when it's freshly shucked that sugar is oozing out of the kernels. This makes the perfect platform for a grilled char and it really doesn't matter if you put them on an outside grill or do the work inside on your stove top.
The only tip I would suggest if cooking indoors, whether on a gas range or electric, is to use a cast iron grill pan – they're important for this type of cooking. These pans come with ridges that leave perfect grill marks and most are pre-seasoned so your vegetables won't stick. I use a square grill pan from The Lodge and I love it, they aren't very expensive but a good investment to have in any kitchen!
Any tomatoes will work but if you have a chance to pick up some heirloom tomatoes then don't pass them up. What could be better than charred corn and a mix of heirloom tomatoes with all the rainbow colors of green, orange and red? If they're not in season I prefer a sweet cherry or grape tomato.
Enjoy!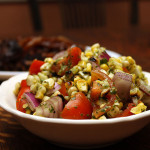 Charred Corn Salad
2015-03-08 15:14:27
Ingredients
4 ears of freshly shucked corn
2 tbsp. olive oil to coat the corn
1/4 cup olive oil for dressing
1 pint grape tomatoes halved
1/2 red onion diced
1 1/2 cups fresh basil
1 clove garlic
1/4 cup apple cider vinegar
salt & pepper to taste
Instructions
Coat the corn with olive oil and place on a very hot cast iron griddle (or outside grill). Rotate the corn until it is charred on all sides. Remove and cover with plastic wrap until cool.
Slice the corn off the cob into a glass bowl. Add the onion and tomato.
In a food processor add the basil and pulse until it begins to break down. Add the garlic and vinegar and then drizzle in the olive oil until the dressing is smooth.
Blend the dressing with the corn salad and add salt and pepper to taste.
Adapted from Kelsey's Essentials
My Mother's Daughter http://mymothersdaughter.net/
Comments