Calzone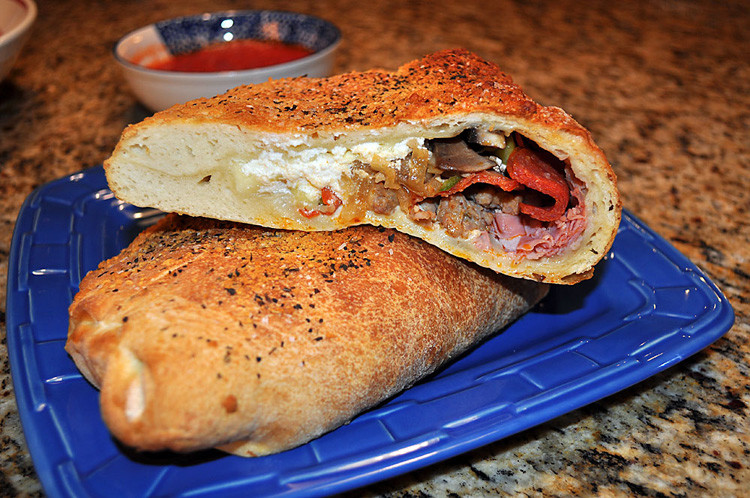 This is an amazing calzone recipe from my brother, Rick, up in Maryland!
My brother writes…
Like most awesome recipes…this calzone is borrowed from a local killer Italian restaurant. This is a place we have eaten in, and ordered take-out, many many times.

One Friday night, shortly after our first was born, I called in to order take-out Calzone. I got there a bit early (Taylor must have been crying) and as luck would have it, they were slammed….and short on help in the kitchen.

The cash-register was close to the kitchen and I saw a cook drop a bunch of food so I stepped in to help clean up. As thanks…they let me hang out and watch them cook and help here and there. I got to watch them make my Calzone and I had my photographic memory on overload. I very quickly paid for our order, then rushed home and wrote down everything I saw.

I can't tell you how they make their dough because the chefs take them out of a cooler and they have already risen. So…if you have a favorite pizza dough…..use it here. If not…do like I do and buy one made (a pizza dough-ball) and ready to rise.

So…how did I make this my own? Simple….I substituted the regular onions they use for a Caramelized recipe I use with other dishes. Our favorite pizzeria order is currently a sausage pizza with caramelized onions and that's how I got the idea. I must say….it makes the best Calzone I ever had a smidge better. Enjoy!!!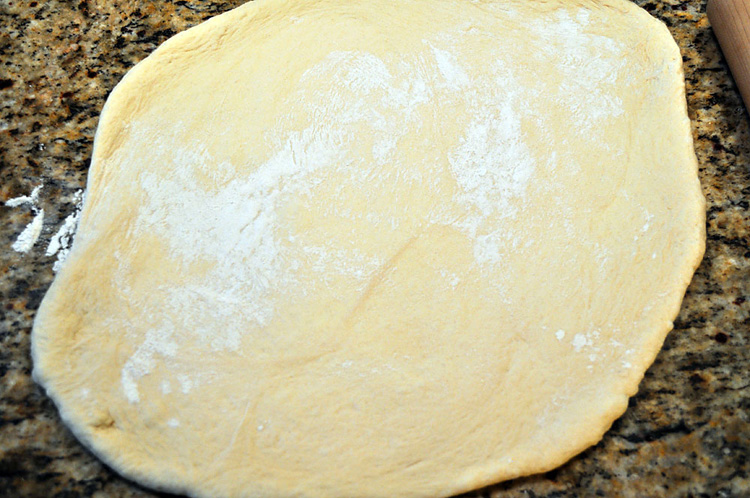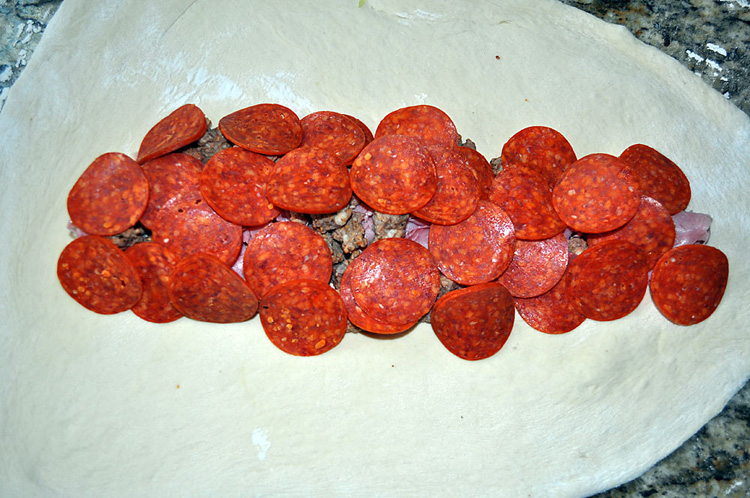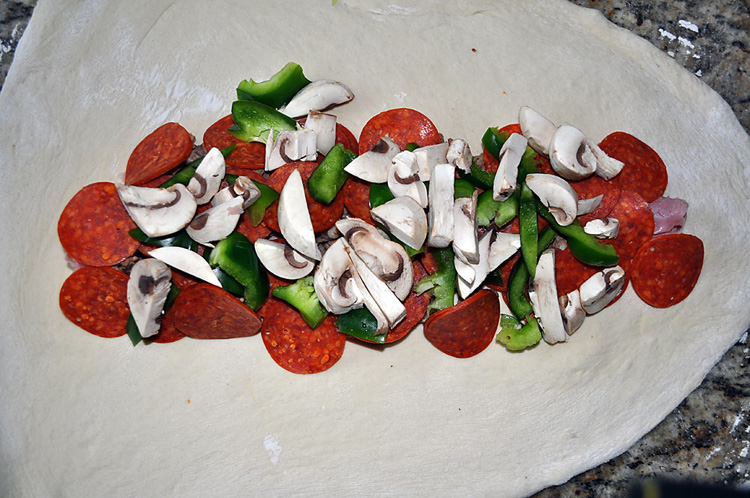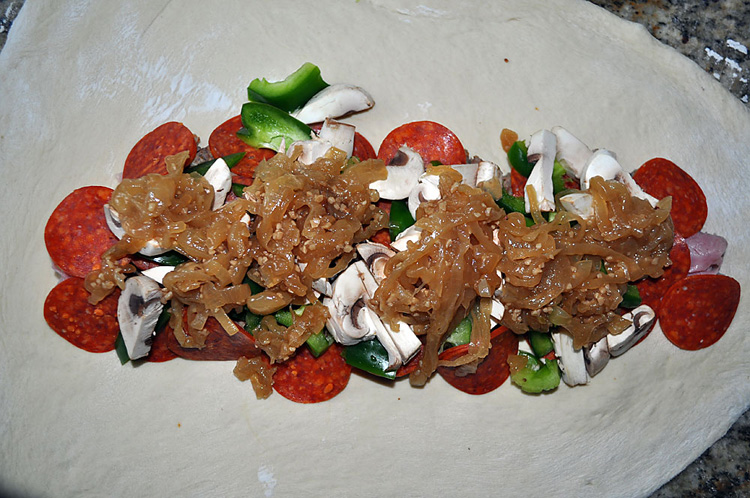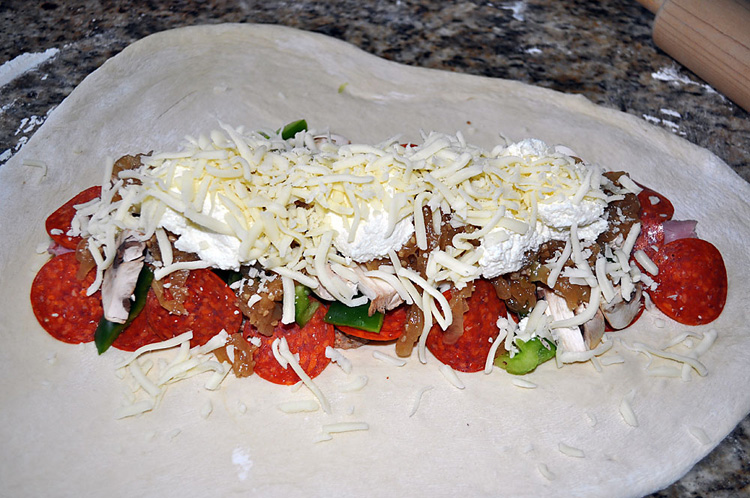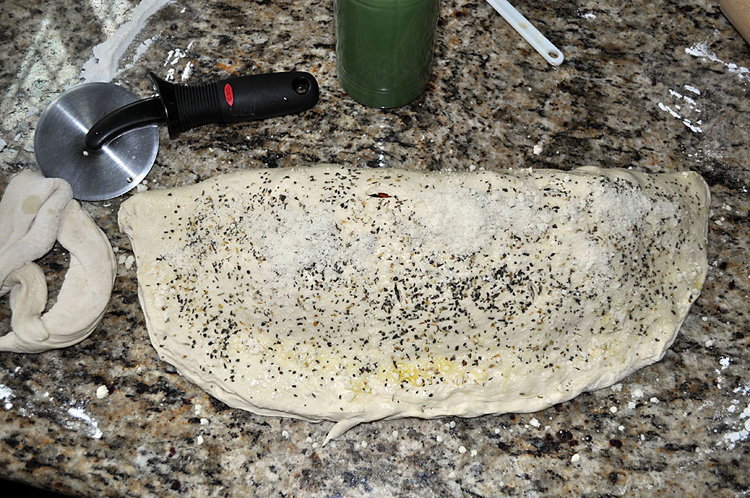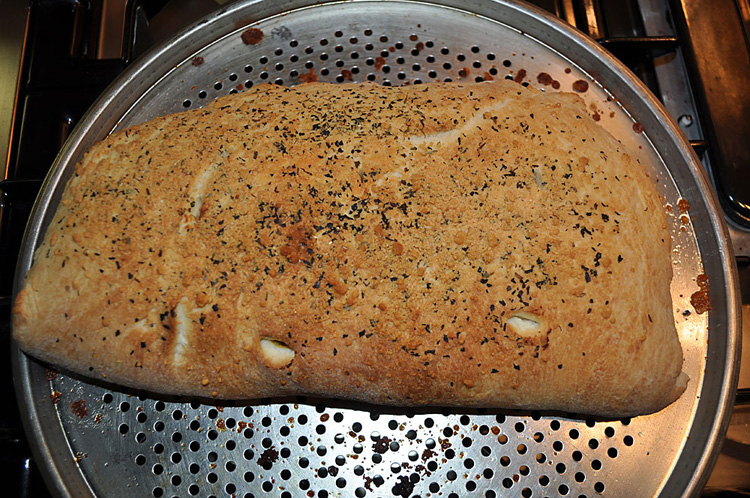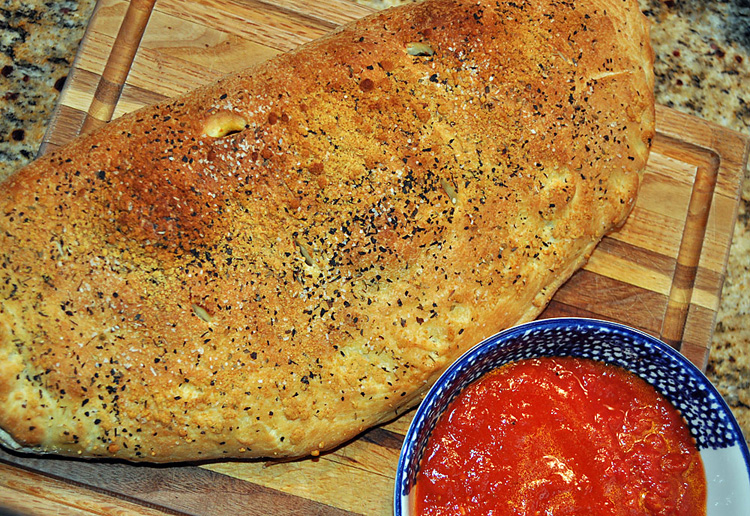 Calzone
2015-03-08 19:46:22
Ingredients
Dough - 2 pre-made dough balls work great
1 lb. Italian Sausage, out of casing, cooked and drained
8 oz. pre-cooked ham, sliced or chopped
8 oz. pepperoni slices
Fresh sliced mushrooms
1 Green Pepper, seeded and sliced into strips
Caramelized Onion (recipe follows)
1 cup Ricotta Cheese
8 oz. fresh shredded Mozzarella
4 tbs olive oil
Grated Parmesan Cheese
Italian Seasoning
Ingredients for caramelized onions
1 1/2 pounds onions, thinly sliced
2 tbsp olive oil plus more for brushing grill rack
3 garlic cloves, minced
Instructions
Roll out dough.
Place half of meat mixture on half of the dough.
Top with half of Mushrooms, Green Peppers and Caramelized Onions
Top with 3 TBS of Ricotta Cheese and a heaping amount of Mozzarella (per each Calzone)
Quickly pull over the dough to cover the mixture and use your hand to seal the edges. Cut away the excess dough. Seal the edges with your fingers..pinching the dough together.
Brush top of Calzone with Olive Oil
Sprinkle top with Italian Seasoning and Parmesan Cheese
Cut Slits in dough for venting during baking
Bake at 450 degrees for 15 minutes. Lower heat to 400 degrees and bake an additional 15 minutes.
Instructions for caramelized onions
Large Skillet-(medium-high heat).
Toss onions and next 3 ingredients.
Cook until onions are golden, stirring often, about 25 minutes.
Remove from heat and season with salt & pepper.
Adapted from Rick Rogers
My Mother's Daughter http://mymothersdaughter.net/
Comments