Blue Cheese Wedge Salad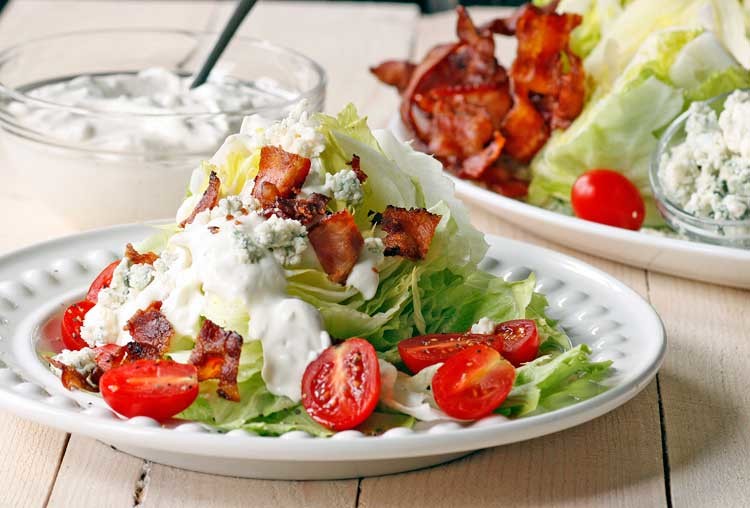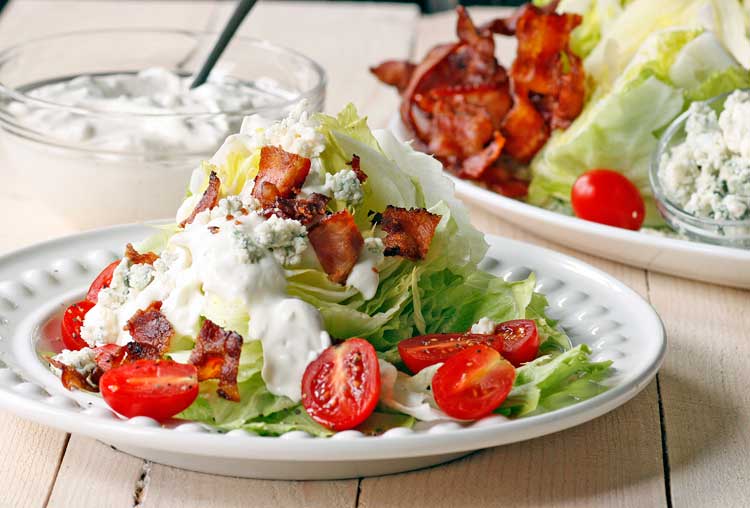 When dining out, one of the first items on a menu that always catches my eye is a Blue Cheese Wedge Salad. I can't really enjoy a steak dinner to it's full potential without a wedge salad as a warm up.
My typical routine is to only eat half of my salad and then ask the waiter if I can please hold on to the rest when my steak arrives because I like the way the two go together so well. A little bite of wedge, a tasty bite of steak, a tangy taste of blue cheese, a juicy cherry tomato…and so it goes. I can even pass on a potato with my steak just as long as I have my Blue Cheese Wedge WITH bacon and tomato of course.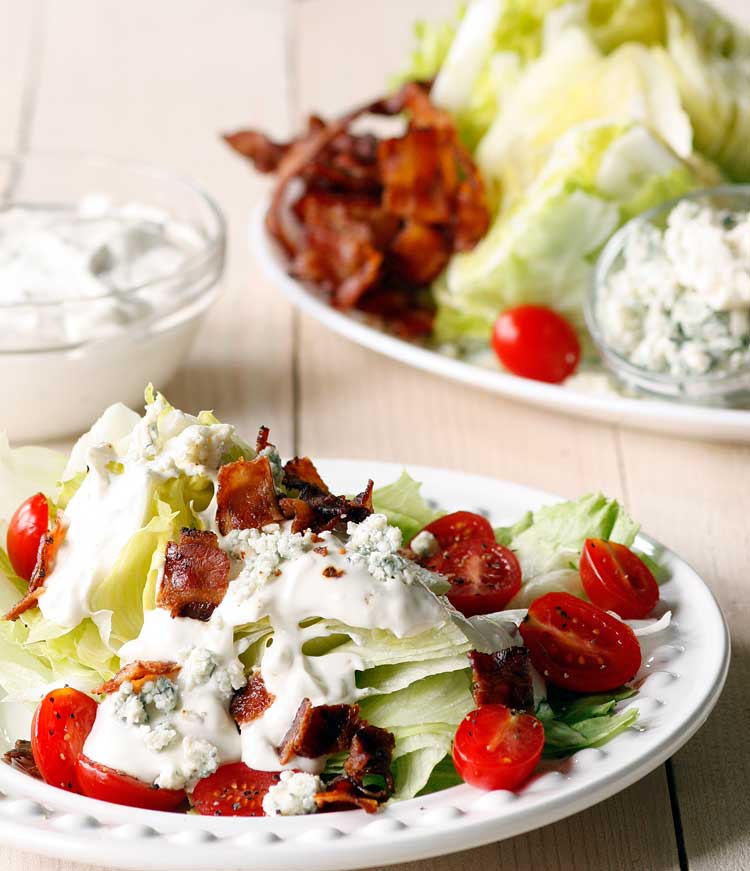 My mom used to make wedge salads quite a bit when I was growing up so it wasn't a stretch for me to come up with my favorite version of the old classic.
To start, I make a very basic creamy blue cheese dressing but hold back a few crumbles to dress the salad on top at the very end. A nice crisp head of iceberg is key and I actually LIKE iceberg and am really not sure how or why it has such a bad rep – it's not particularly flavorful on it's own but it holds up well and stays firm for a very long time. Bacon is essential, and please use REAL bacon…turkey bacon just won't do on a wedge salad.
Lastly, little cherry tomatoes halved are the perfect finishing touch.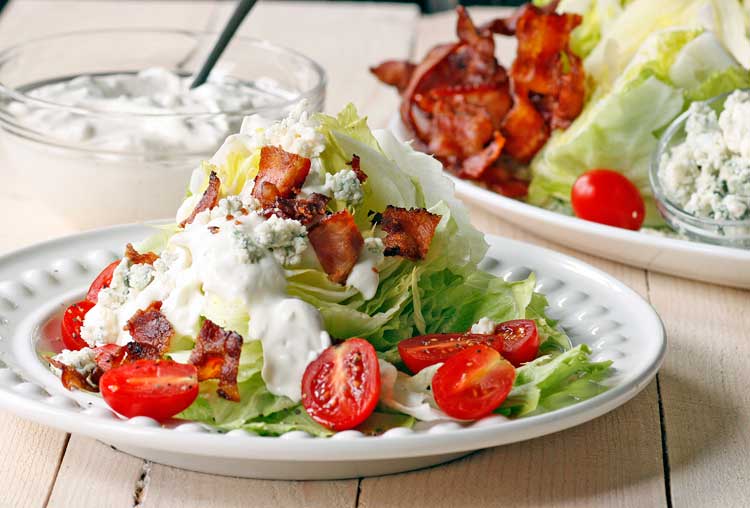 Blue Cheese Wedge Salad
2015-06-20 14:54:04
Blue Cheese Dressing
1/2 cup mayonnaise
1/2 cup sour cream
1/2 cup plus 2 TBSP. blue cheese crumbled
whole milk (you can also use buttermilk)
1/2 tsp. worcestershire
pinch of kosher salt
pinch of cracked pepper
Salad
1 head iceberg lettuce chilled
1 pint cherry tomatoes halved
8 strips of bacon cooked and diced
Instructions
Whisk together the mayo, sour cream, worcestershire sauce, salt and pepper. Fold in 1/2 cup blue cheese. Add just enough milk to thin to the right consistency - not more than a 1-2 tablespoons. Chill while cooking the bacon.
After cooking the bacon give it a rough chop into 1/2" pieces. Halve the tomatoes, set aside both.
Hit the lettuce core side down on the counter to remove the core. Cut the lettuce down the center, cut again so that you have 4 quarters.
Place each quarter on a plate. Spoon dressing over the lettuce, add a few crumbles of blue cheese, top with bacon and tomatoes.
My Mother's Daughter http://mymothersdaughter.net/
Comments