The Best Potato Salad Ever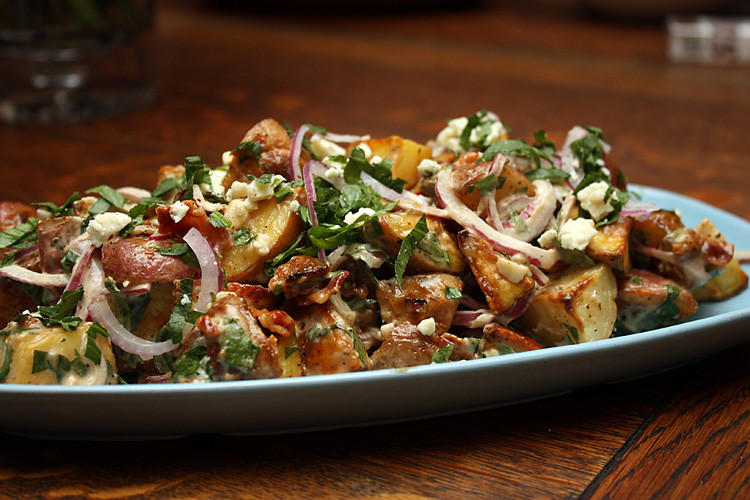 I've tried every Best Potato Salad recipe out there and what I ended up with is a combination of 3 or 4 recipes in one final masterpiece. I took the best of one and the best of another and just blended them all together. One thing is for sure, I have never been able to pick up a container of potato salad at the grocery store and get away with it – it just can't be done. I've tried upscale and downscale markets and they just can't nail potato salad. It either has too much dressing or it's far too heavy on the mustard or the potatoes are over cooked.
As a lover of potato salad, I think this recipe is easy, fast and delicious. And whenever I take this dish to a party it is a huge success.
Try it, I think you'll agree that it's the best ever!
I don't like my potato salad with too much dressing so I start out using about half of the dressing that this calls for and after sitting in the fridge for awhile it will soak in and you will want to add a little more. If you're taking it to a party be sure to take the dressing with you so you can add a little extra just before serving.
Enjoy!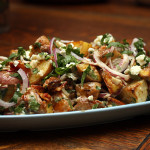 The Best Potato Salad Ever
2015-03-07 18:34:08
Ingredients
6 to 8 red potatoes quartered but not peeled
olive oil to coat
salt & pepper
1 cup mayonnaise
1/4 cup balsamic vinegar
2 tsp. sugar
2 tsp. dijon mustard
1 small red onion thinly sliced
1/2 lb. bacon cooked and chopped
3 to 4 oz. crumbled gorgonzola
1/2 cup chopped celery
Instructions
Preheat the oven to 400 degrees. Put the potatoes in a glass bowl and drizzle with olive oil, sprinkle with salt and pepper and place on a foil line baking sheet.
Bake for 20 to 30 minutes or until potatoes start to get brown and slightly crisp. Remove to cool on tray lined with paper towels.
Mix mayonnaise, vinegar, sugar and mustard together. Toss potatoes, onion, bacon, cheese, celery and half of dressing together. Let sit for at least an hour before adding anymore dressing.
My Mother's Daughter http://mymothersdaughter.net/
Comments