Beef Bolognese Sauce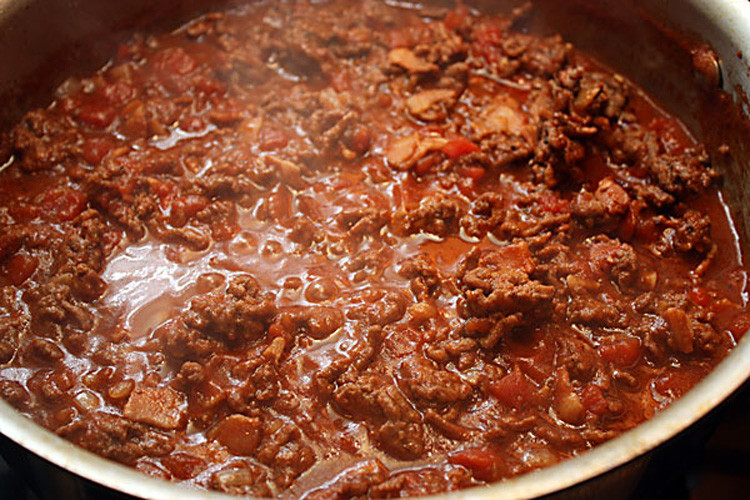 A lot of people don't really understand the difference between a beef bolognese sauce and a typical spaghetti sauce with meat. The best way to describe a bolognese is to call it an "Italian chili". It's thick, beefy and almost a cream sauce after you add a little whole milk to the final step. Traditionally, the recipe calls for cream to thicken the sauce but I like to substitute with whole milk because it leaves the bolognese a little lighter and the color a bit brighter. If you want a rich, very creamy Bolognese then by all means go with cream, it is delicious!
I start off my sauce off with a little bacon to lend some pork flavor to the sauce and then add some VERY lean ground round or sirloin. If you really want a treat, try substituting the ground beef with ground veal, it will give you a rich and fabulous sauce!
I also like to use a can of whole tomatoes rather than diced, they will cook down and break apart much easier than diced tomatoes. The photo in this blog is obviously a can of diced tomatoes because we had 3 inches of snow on that particular day here in Texas and I wasn't going anywhere for a can of anything! Diced tomatoes worked just fine, I just had to put in a little extra time with the back of my wooden spoon as the sauce simmered away.
I like to serve over fettucini with freshly grated parmesan cheese but the pasta possibilities are endless, and bolognese is perfect for stuffed shells too!
Finally, if you happen to have any leftovers, be sure to freeze it for my Baked Ziti later on…it can't be beat for the best in comfort food casseroles.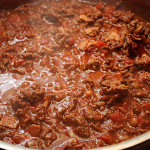 Beef Bolognese Sauce
2015-03-09 17:24:44
Ingredients
2 strips bacon diced
2 TBSP butter
½ onion chopped
3 cloves of garlic minced
1 pound very lean ground round or sirloin
1 28 ounce can whole tomatoes
1 ½ tsp oregano
2 tsp. kosher salt
1 tsp sugar
½ cup white wine
1 cup chicken broth
3 TBSP whole milk
Instructions
In a large, heavy skillet or dutch oven, melt butter and cook bacon until just done but not crispy, remove and let drain on a paper towel.
Remove all but one tablespoon of the rendered bacon fat and cook onion and garlic for just a couple of minutes on low heat, stirring constantly until they are just soft, add the beef and cook until no longer pink. Because the meat is very lean it shouldn't be necessary to drain, you want to keep the flavor of the rendered bacon fat and the juices from the meat in the pan.
Crush the tomatoes over a bowl with your hands, add to the skillet, then return the bacon to the skillet and add the oregano and salt.
Turn up the heat and deglaze the pan with the wine, add the chicken broth and sugar. After the sauce comes to a boil reduce to medium low and simmer for one hour. You will want to give it a stir every 15 minutes or so, breaking up the tomatoes with the back of your spoon and checking the consistency.
The sauce should cook down to a thick, almost "chili" consistency when you add the milk. After adding the milk, stir and you are ready to serve over pasta with freshly grated parmesan cheese.
My Mother's Daughter http://mymothersdaughter.net/
Comments