BBQ Shrimp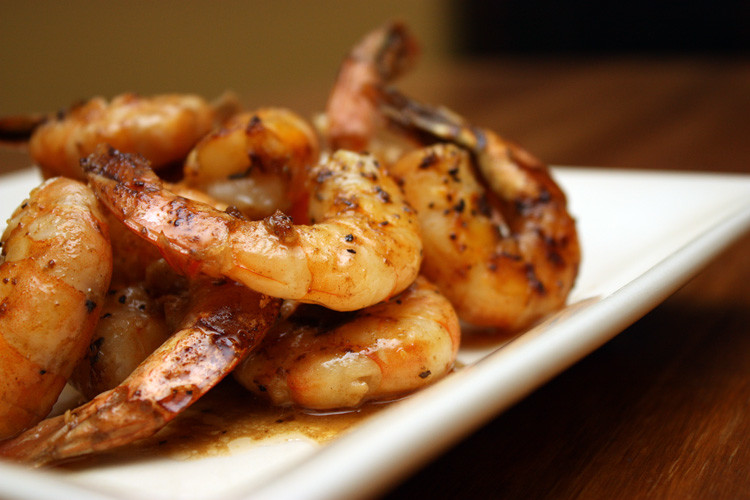 I took an old BBQ shrimp classic of my mom's and made it even more simple than ever. I actually came up with this recipe when I was scratching my head on a Friday night during Lent trying to figure out what I could make for dinner that didn't involve salmon. I remembered my mother's old, classic oven baked shrimp recipe that she served most as an appetizer. It was very, very good but I knew if I toned it down a bit and used jumbo shrimp I would have a nice main dish. I was right, this was so satisfying, if I'd had this in a restaurant I would go back and order it over and over again.
Using the biggest shrimp you can find is very important to this recipe because an oven cooking method typically results in tough shrimp and you want them to baste long enough in the marinade to take on the flavors and carmelize.
You could give them a twist of lemon to finish but they really don't need it – they're perfect just as they are.
I served these with a chopped kale salad and a baked potato and that was dinner, it couldn't have been easier or more delicious.
Bbq Shrimp
2015-03-09 17:44:45
Ingredients
2 lbs. Jumbo shrimp peeled, tails on
1 stick butter
3 TBSP. Worcestershire
3 cloves of garlic minced
A few shakes of hot sauce
Kosher Salt
Instructions
Melt butter in a sauce pan over low heat, add worcestershire, garlic and hot sauce. Stir until blended, remove from heat and let cool.
Peel and clean the shrimp leaving the tails on, put in a 9 x 12 baking dish and sprinkle with kosher salt. Pour the cooled sauce over the shrimp, toss until nicely coated, cover in plastic wrap and place in the fridge for 30 minutes.
Turn your oven to the broiler setting, adjust the rack to 2nd from the top. Take the shrimp from the fridge, spread them out in the baking dish as much as possible. Broil the shrimp in the baking dish on one side until they are just starting to char, remove and turn them over and repeat the process, The first side will take about 5-7 minutes, after you flip them, just another minute or so.
My Mother's Daughter http://mymothersdaughter.net/
Comments