Oven Barbecue Chicken Thighs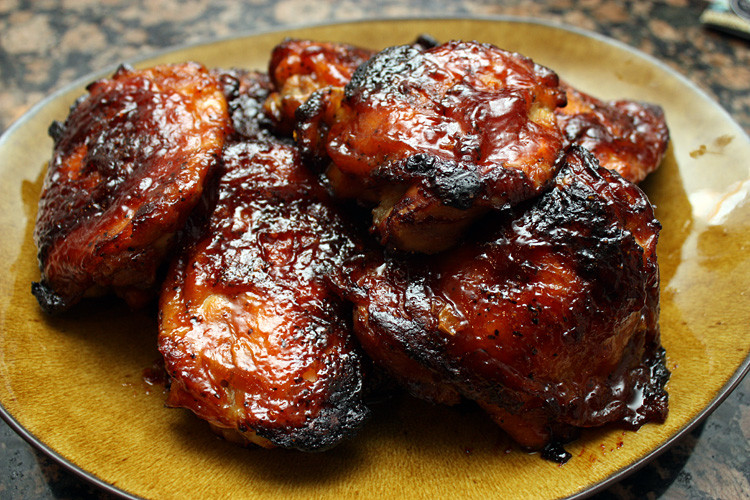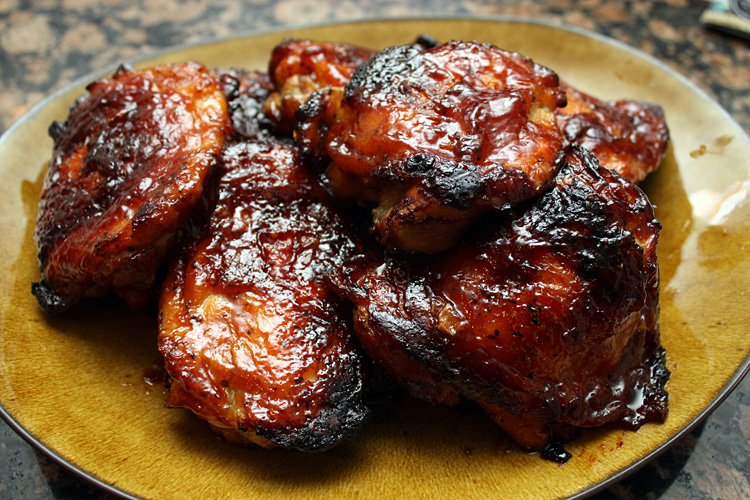 I saw this barbecue chicken thighs recipe on The Pioneer Woman and immediately knew that I had to check it out.
The thighs looked like everything I love about a piece of BBQ chicken – minus the headache of grilling outdoors. They're perfectly cooked through because you can control the temperature by using an oven cooking method and that's important since a chicken thigh can take a long time to finish. When cooking on the grill, the skin is often charred and a chicken thigh resembles a burnt hockey puck by the time it's done. Not so with this method, the BBQ sauce is sticky and perfectly charred with just the right amount of crispiness around the edges.
I love the flavor of the peach preserves together with my favorite BBQ sauce (KC Masterpiece) and the extra garlic and dash of hot sauce takes it over the top.
I've also thrown some bone-in chicken breasts on my baking sheet along with the thighs when making this for guests who weren't crazy about dark meat. They were good too but you may have to cut the cooking time if using breasts (depending on size) since they have a tendency to get dry if over cooked by even a few minutes.
I've cut her recipe down to serve 4-6 people since her version is written for a much larger crowd. I've also added more peach preserves and garlic than her original recipe calls for and both are delicious but this just has a little more bite to it!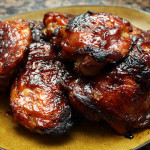 Oven Barbecue Chicken Thighs
2015-03-07 22:18:53
Ingredients
6 chicken thighs, bone-in and skin on
1 1/2 cups BBQ sauce (I use KC Masterpiece or Sweet Baby Rays)
1/3 cup peach preserves
2 cloves garlic minced
tabasco sauce - several dashes
kosher salt
black pepper
Olive oil
Instructions
Preheat the oven to 425. Line a heavy baking sheet with parchment paper for easy clean up. Drizzle olive oil on the baking sheet and use a pastry brush to coat the surface thoroughly.
Dry the thighs, salt & pepper both sides and place skin side down on the baking sheet. Bake for 25 minutes. Meanwhile, make your sauce by whisking the BBQ sauce, peach preserves, garlic and hot sauce together in a sauce pan. Bring to a boil, reduce to a simmer for 10 minutes.
Pull the thighs out and coat both sides with the BBQ sauce. Flip the sides to skin side up and return to oven for 15 minutes.
Pull the thighs out again, put more sauce on and turn them over and return to the oven for another 15 minutes.
At this point the thighs should be nice and brown, done all the way through. I like to pull them out, brush on a final coat of sauce and let them go for another 5-10 minutes if necessary or just until they are nice and crispy around the edges.
Adapted from The Pioneer Woman
My Mother's Daughter http://mymothersdaughter.net/
Comments