Bacon, Tomato & Cheese Stuffing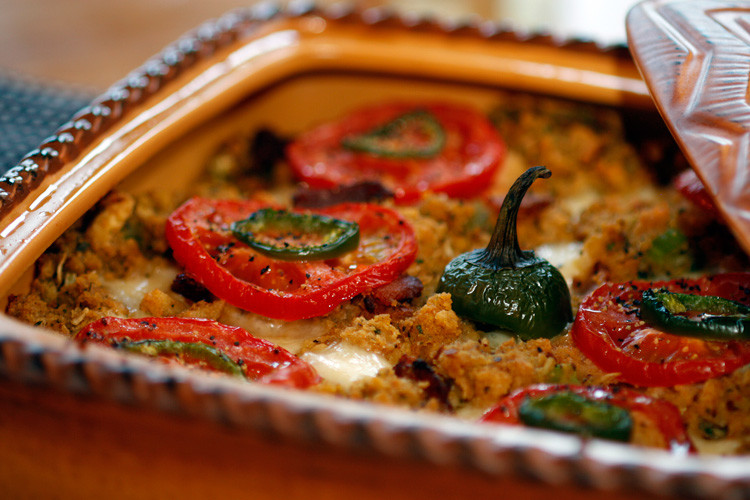 My Bacon, Tomato & Cheese Stuffing recipe has sort of evolved over time because I love to make turkey breast throughout the year and I love stuffing. I was trying to come up with a stuffing recipe that tasted more like something that I could serve during the summer with my BBQ turkey breast and cold salads. I just kept adding and tweaking until I finally nailed it.
What's funny is that once my kids tasted it they became huge fans and this stuffing turned into a family favorite at holiday time. I now make our traditional turkey dressing as well as this one and guess which one is licked clean?
The jalapeno definitely gives it a spicy flavor and we love that here in Texas but, if that's not your thing just leave it out. You will still love the bacon, cheese and the tomatoes on top. And everyone has their preference of a "base" for their stuffing. This recipe calls for toasted cubes of white bread mixed with cornbread. This just happens to be what we like in our family but, if you like all cornbread go for it – just make sure your measurement of bread is the same. I always end up adding a little more broth at the end because we like ours very moist.
I typically serve this during the summer along with braised collard greens or my charred corn salad… it's the perfect side dish!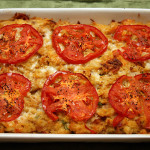 Bacon, Tomato & Cheese Stuffing
2015-03-07 19:01:26
Ingredients
1 loaf french bread, crust removed and cut into cubes
2 pkgs. Jiffy cornbread mix
6 slices bacon cooked
2 tbsp. butter
1/2 onion chopped
2 stalks celery chopped
1 jalapeno sliced (include the seeds for spice)
1/2 tsp. chili powder
2 cups chicken broth
2 eggs
kosher salt & pepper
1/2 cup plus 1/4 cup monterrey jack cheese
1 tomato sliced
Instructions
Put the white bread cubes on a baking sheet and toast in a 350 degree oven for 15 minutes turning every 5 minutes. Remove and let cool.
Prepare the corn bread according to package directions. Let cool and then crumble in a large mixing bowl.
Add the bread cubes to the bowl so that they are equal to the corn bread. I think I end up using about 3/4 of the cubes but it's hard to say because a loaf of french bread varies in size depending on where you buy it so just eye ball it but make sure that you end up with half toasted bread cubes and half corn bread in your bowl.
Meanwhile, saute the onion, jalapeno and celery in butter. Add the chili powder and chicken stock, bring to a boil and simmer for 5 minutes. Add to the bread and blend.
Cook bacon, set aside to drain and cool, then chop and add to bowl.
Add beaten eggs to the bread mixture and blend. Now you just need to add more chicken broth until the dressing is nice and moist. I usually end up adding another 1/2 to 1 cup.
Add the 1/2 cup cheese and toss. Add just a sprinkle of salt. You don't need much because of the bacon. Spread in a buttered 9x11 casserole dish. Top the remaining 1/4 cup cheese and sliced tomatoes.
I pour a little bit more chicken broth around the edge of the casserole to make sure the borders of the dressing don't dry out. Drizzle a bit of oil over the tomatoes and top off with some cracked pepper.
Bake uncovered at 350 degrees for 30 minutes.
My Mother's Daughter http://mymothersdaughter.net/
Comments