A Boca Chica Christmas Party!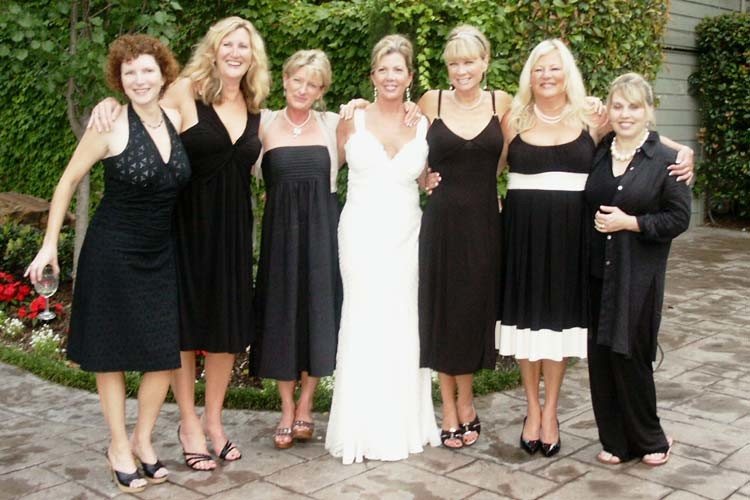 Each and every year I celebrate Christmas with a group of women who have been near and dear to me for more years than I care to count. We named ourselves the "Boca Chica's" after taking a wrong turn on our annual beach trip to Padre Island with our group of rowdy offspring. I was at the wheel talking a mile a minute to Sandy about nothing important when suddenly we saw a sign that said "Boca Chica Beach" and that's when we noticed the Mexican border patrol looking at us in total confusion. An Eric Estrada look alike inquired as to where we thought we were, as in, "do you lunatics realize you're about to enter Mexico"??? And then we started laughing and couldn't stop. It was a Kodak moment for sure.
The photo above is at my wedding in 2007 and everyone is in the picture except Little Kim who joined the party a few years later. From left to right you'll find Francie, Sandy, Holly, myself, Sheryl, Kimmie and April. We have traveled together through the ups and downs of life for decades and I wouldn't be able to truly celebrate the holiday's without a Boca Chica Christmas Party. It's classic craziness and about as perfect it gets.
This year I will be hosting the party at my home in Arlington and most of the girls will be spending the night so that they don't have to hike back to Dallas which is a 35 mile drive. We will look forward to Eggs Benedict and Mimosa's on Saturday morning…but first and foremost, here is a run down of what we will indulge in the night before!
It wouldn't be a Christmas party without my Kahlua Pecan Brie. I'll also be whipping up a batch of my brother's Beef Tenderloin Crostini's which I'm excited to try with a new pesto I found at Whole Foods yesterday. It's green chile and pecan pesto and it is spicy and wonderful! Next up, The Barefoot Contessa's Roasted Figs with Prosciutto (simple!). These little beauties are sweet and salty all rolled up into one delicious bite that go perfectly with cocktails. I'll also offer up my BBQ shrimp – it's always a hit and a perfect partner to the beef tenderloin. I picked out a wonderful assortment of cheeses and the Stilton will be drizzled with honey and served with both red and green pears. Ooh la la. And just to make sure that all bases are covered, I'll be serving a Ceasar Salad from our garden with a delicious dressing and parmesan croutons.
Most of the recipes above are available on my website. The Stilton & Honey and my Ceasar Salad will make their debut after I've had a chance to photograph them Friday night. Hopefully I can get this accomplished before the cocktails:)
Merry Christmas to all,
MMD
Comments