24 Hour Pasta Salad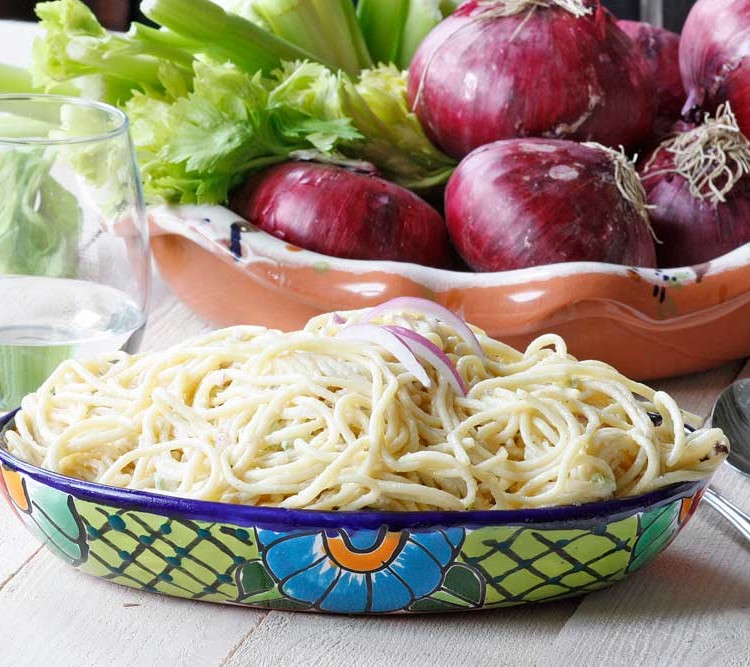 My 24 Hour Pasta Salad recipe is an old classic of my mothers and will forever remain my very favorite summer salad. It's always a hit whenever I take it to a party, everyone loves it and it never seems old fashioned even though it's been around forever. The spaghetti gives it a unique "twist" and letting the flavors mingle overnight makes a big difference.
The original recipe called for a tablespoon of Accent seasoning in the dressing but one of the key ingredients in Accent is MSG and we all know now that this is not a good thing, so a few years ago I kicked the Accent out of the party and added sea salt in it's place. I honestly can't tell much difference, although the flavor may be just a little different so you can do it either way…Accent or sea salt, both will be good.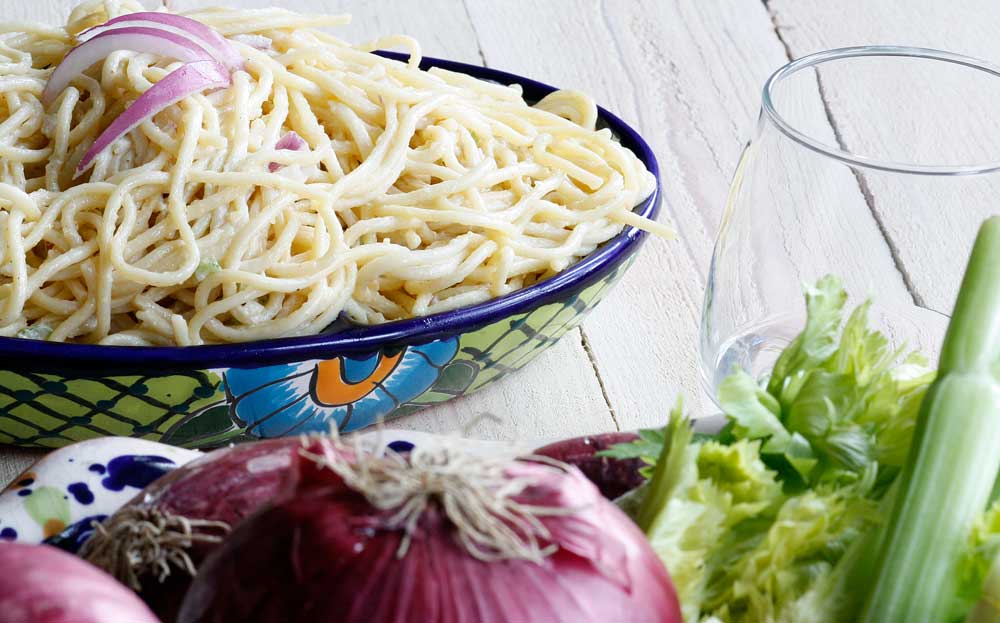 Mom's classic recipe calls for red onion and celery but, I've also used red and green bell peppers – they were really delicious and added great color, too! And, this salad is the perfect side dish to BBQ for some reason, even more so than potato salad. The next time you're putting together a BBQ, try my 24 Hour Pasta Salad – I think you will love it and it will become one of your summertime traditions, too!
24 Hour Pasta Salad
2015-07-07 06:23:06
Ingredients
12 oz. Spaghetti
4 TBSP. Canola Oil
1 TBSP. Lawry's Seasoned Salt
1/2 TSP. Sea Salt
3 TBSP. Lemon Juice (one lemon should do it)
3/4 Cup Mayonnaise
3-4 stalks celery chopped
1/2 small red onion chopped
Instructions
You won't find a 12 oz. package of spaghetti but I write the recipe as it was originally written on my mother's recipe card. So I eyeball a 1 pound box and use about 3/4 of the package and boil until just done - don't overcook! Drain and rinse well.
In a large bowl whisk the oil, Lawry's, sea salt and lemon juice. Add the pasta and toss. Cover and refrigerate overnight. The next day add the mayonnaise and vegetables. Ready to serve!
My Mother's Daughter http://mymothersdaughter.net/
Comments