I was at home feeling a bit under the weather yesterday and I knew I wanted to make something for dinner that would require little (if any) effort and give me the comfort I was craving.  I also had to have everything in my freezer or pantry since a trip to the store was out of the question. Beef barley soup was the answer since the ingredient list is short and you basically put everything in a stock pot or dutch oven and leave it on the stove to simmer for 3 hours, returning to add water every so often.

This is a really good, hearty soup that will fill you up – my husband loved it. You can add mushrooms to it and let them simmer the last hour or so but, as I said, I hadn't been up to par and they just didn't sound good to me so I left them out.

My base is a very cool ingredient called "Better Than Bouillon" and I only recently discovered it. It's a thick, magical base full of rich flavor that will make the most delicious soups and gravies. I'm including a photo so you'll know what to look for and you'll find it right in the soup aisle – just keep it in the fridge after opening.

As for the Pearl Barley, if you've never cooked with it, it's sort of a cross between rice and pasta and you'll find it in the rice section.  In fact, when you see it on the shelf it looks just like a bag of uncooked white rice until you read the label. I always keep a package in my pantry because it works as an excellent thickener in soups and stews.
Ingredients:
2 lbs. stew meat chopped into small pieces
1 1/2 onion chopped
1/2 pkg. baby carrots
3 stalks celery diced
olive oil
2 1/2 tbsp. Better Than Bouillon Base
8 cups water plus more water as you simmer
4 oz. Pearl Barley (or 1/2 of a package since they usually come in 8 oz. pkgs)


Instructions:
In a cast iron or large non stick skillet, brown the stew meat in a little olive oil with salt and pepper and then transfer to your stock pot or dutch oven.
Add the vegetables to the skillet and cook until soft, transfer them to the pot as well. Deglaze the skillet with a little wine – whatever you have in the fridge is fine. Or just use some water if you don't have any wine. The idea is to get all of the good stuff off the bottom of the skillet. Bring the liquid up to a boil and then pour it into the pot with the beef and veggies.
Now, add the water and beef base to the pot and stir everything together. Add the pearl barley, bring to a boil and then reduce to a simmer.
Simmer for 2 1/2 to 3 hours on LOW, checking the water level frequently because the barley will absorb the liquid as it thickens the soup and you'll need to add water.
Season with salt and pepper after an hour or so to taste. Serve with hot rolls.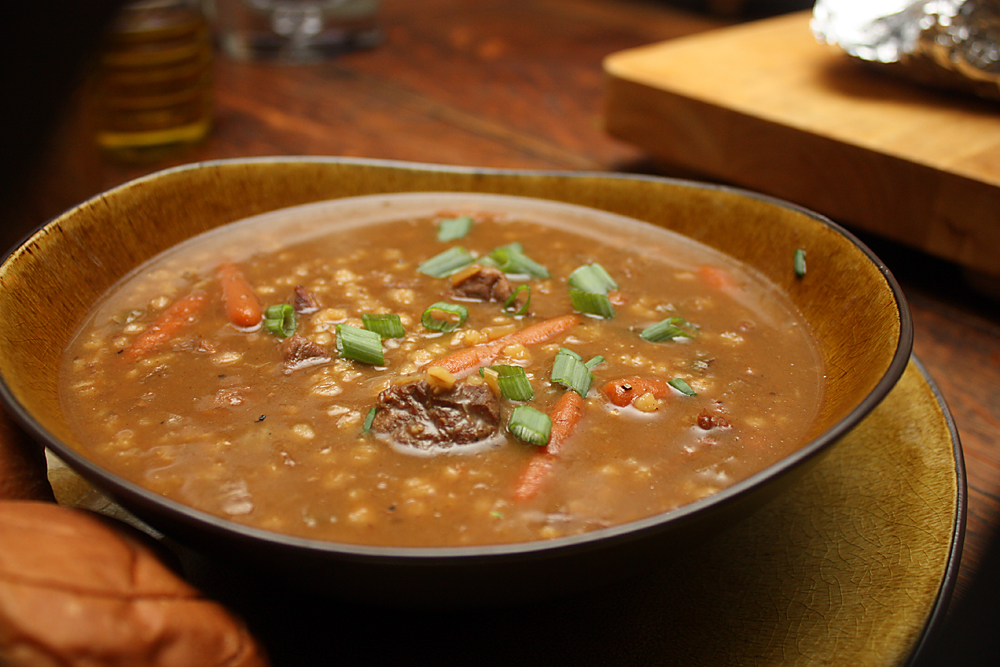 Pin It
More Recipes You May Enjoy: