20 Minute Potatoes Au Gratin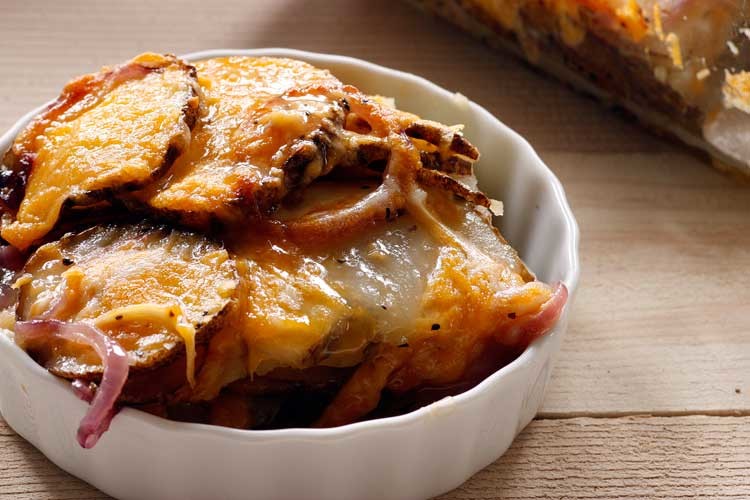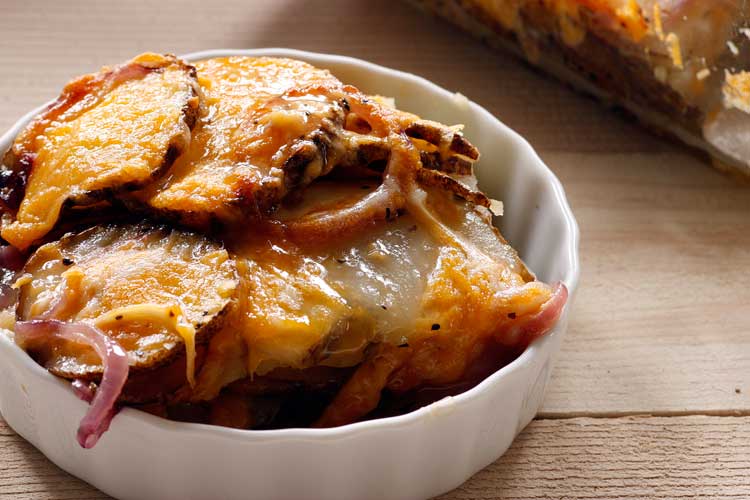 I probably make my 20 minute Potatoes Au Gratin once a week because I usually have the ingredients on hand and they are fast and super delicious. Who doesn't love a spoonful of cheesy, savory potatoes as a side to almost anything? And I use cheddar and monterey jack cheeses but I've been known to use whatever is in my cheese drawer at any given moment. By the way…swiss and gouda is awesome on these potatoes!
I have this crazy little baking dish that I picked up somewhere years ago and it's an odd but wonderful size, just a little shy of 9 x 7. It is one of my favorite dishes to use for something like this because a little goes a long way with a serving of Potatoes Au Gratin. Even though it doesn't sound like a lot, I can still serve 5-6 people with this recipe but feel free to double the ingredients.
You will start by layering the bottom of the dish with one potato sliced thin, topped with a little garlic powder, salt, pepper and some thinly sliced onion: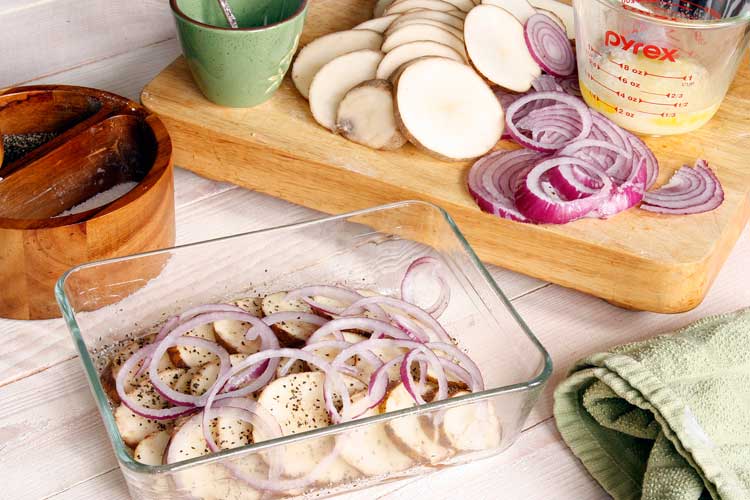 Add another layer of potatoes, seasonings and onions topped with a few pats of butter. Finally, seal the dish completely with plastic wrap before placing in the microwave.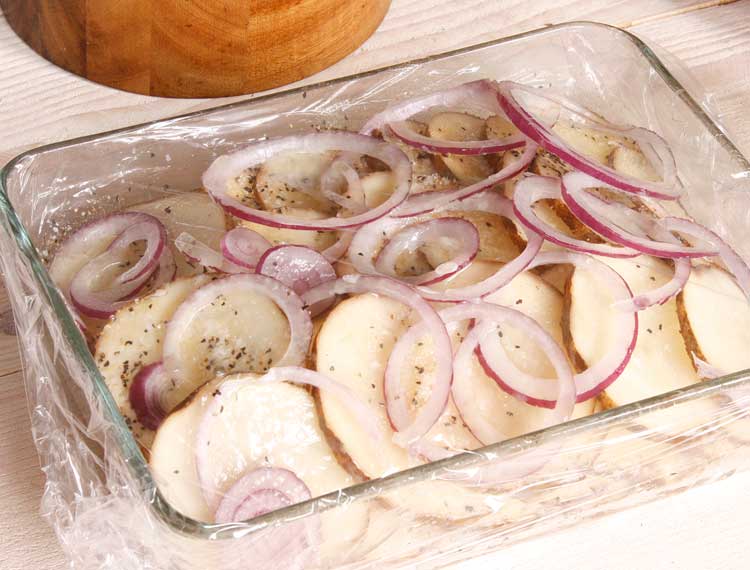 You may need to test your microwave the first time but for mine, I cook this size dish for 5 minutes and the potatoes are completely tender and cooked through. Now they are ready for cheese, a few pats of butter on top and 15 minutes in the oven at 400 degrees to get nice and toasty.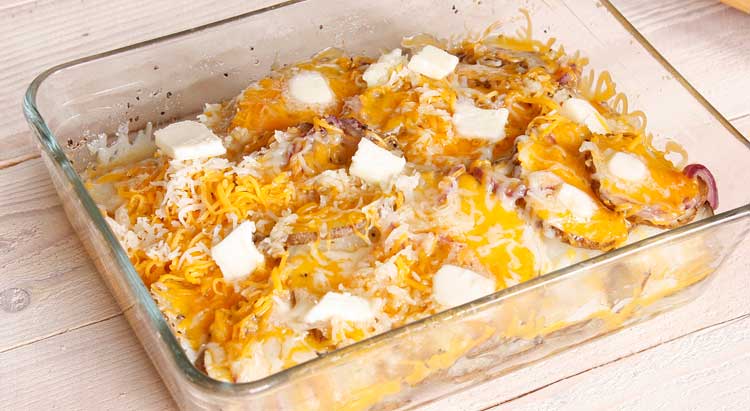 I use a spatula to lift up the top layers of HOT potatoes and spread about 1/2 cup cheese in between, then put the rest on top. The cheese will instantly start to melt but this is what it looks like after just 15 minutes in a hot oven: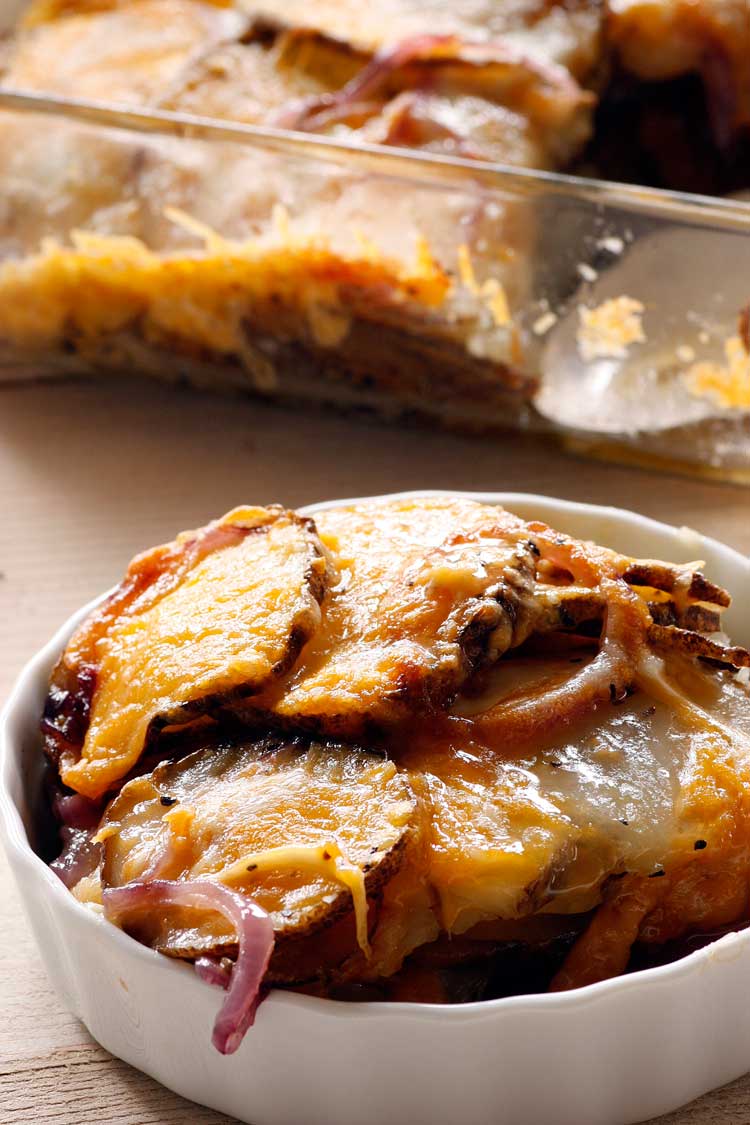 So 5 minutes in the microwave, 15 minutes in the oven and BOOM! This will become one of your favorite go-to side dishes too!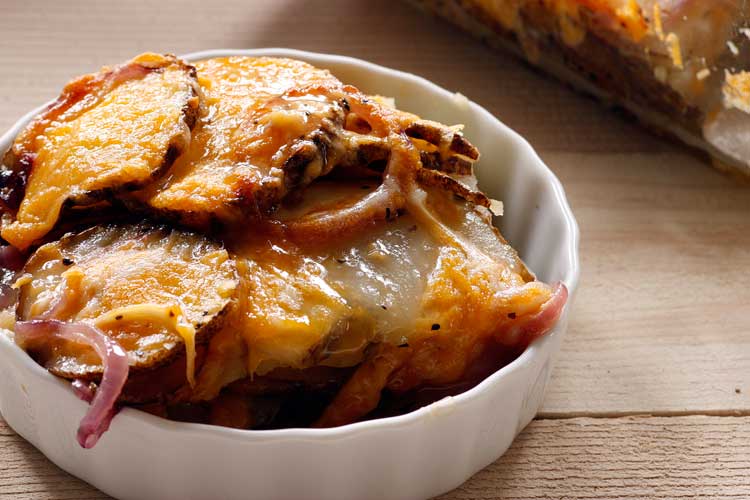 20 Minute Potatoes Au Gratin
2015-06-21 15:39:54
Ingredients
2 large baking potatoes or 3 medium potatotes
1/2 red onion sliced thin
1/2 tsp garlic powder
1/2 tsp cracked pepper
1 1/2 tsp. kosher salt
4 TBSP. butter melted plus 2 TBSP. divided
1 cup cheddar cheese shredded
1/2 cup monterey jack cheese shredded
Instructions
Wash and scrub potatoes, slice. I like skins on but you can do either way.
Preheat oven to 400 degrees. Spray a small baking dish with cooking spray. Line the bottom with one potato, sprinkle 1/4 tsp. of garlic powder, 1/4 tsp. of pepper and 1/2 tsp of salt on top. Put thinly sliced onions on top. Repeat this layer with remaining potato, seasonings and onion.
Pour melted butter over the potatoes, cover tightly with plastic wrap. Microwave for 5 minutes. Carefully remove the wrap, lift the top of potatoes up with a wide spatula and spread 1/2 cup of cheddar cheese in between the 1st and 2nd layer. Put the remaining 1/2 cup of cheddar and 1/2 cup of monterey jack on top. Dot with butter (about 2 TBSP) and bake at 400 for 15 minutes.
My Mother's Daughter http://mymothersdaughter.net/
Comments