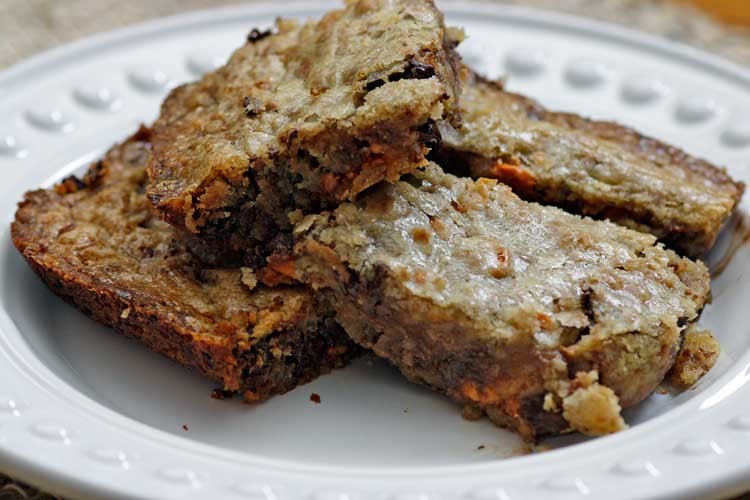 I found this recipe for Schlap Happy Bars in a new cookbook that was written by Kimberly Schlapman of the band, Little Big Town. Reading cookbooks is one of my guilty pleasures and these Schlap Happy Bars can certainly be added to the list since they are as sinful as they are delicious! They are full of chocolate, butterscotch chips and chunks of toffee bars…I seriously can't think of a better way to indulge my sweet tooth.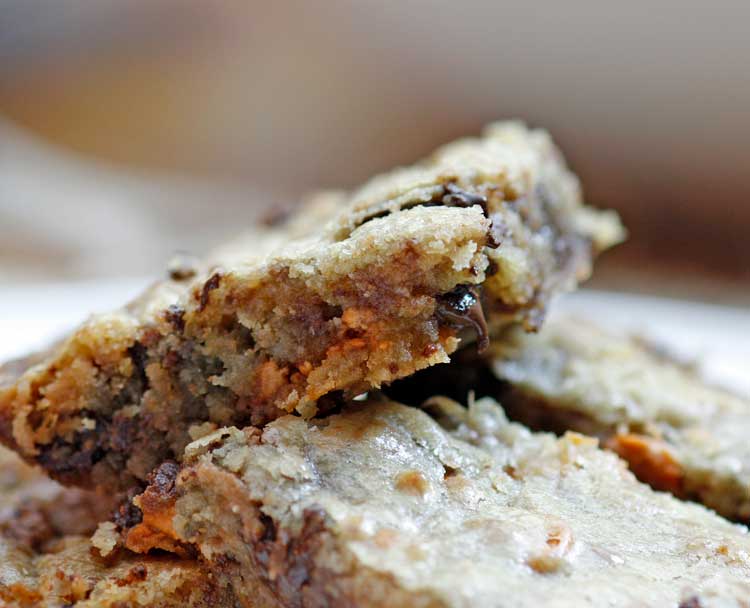 I have to be pretty choosy about my cookbooks these days since I have a five foot cabinet in my kitchen that is crammed to the gills with a collection that spans decades. It helps that I keep a library app on my phone that I use to download any new cookbooks that catch my eye. I will scan through them and if I think I've found a keeper then I'll hop on Amazon and order myself a hard copy. "Oh Gussie" by Kimberly Schlapman is one of those I quickly knew had to be mine and it's on way via UPS as I write this post. I read Kimberly's book cover to cover and every page had a story with recipes that took me back to my childhood along with wonderful new ideas that I can't wait to try.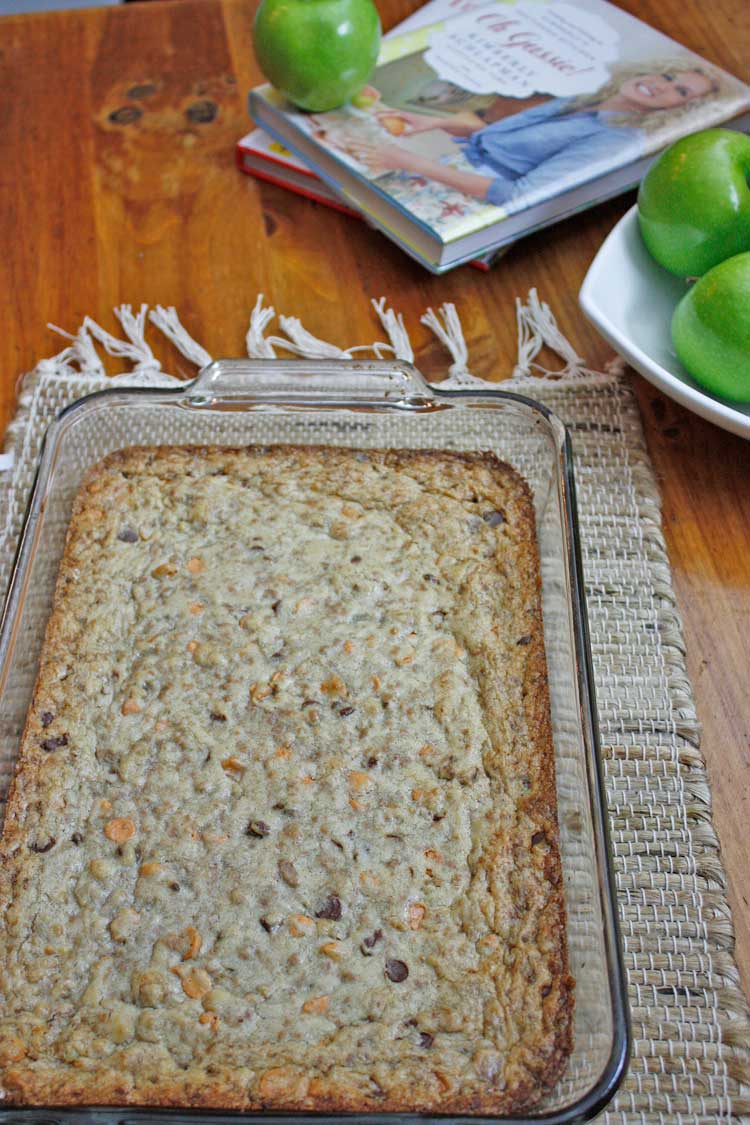 I've been a fan of Little Big Town since I saw them years ago as a warm up for Carrie Underwood. I wondered back then how they hadn't achieved true stardom and sure enough, it finally happened for them with their first hit "Pontoon" and most recently with "I've Got A Girl Crush". Can't think of anyone more deserving than these kind folks with their smooth harmony and amazing songwriting talent. Ms. Schlapman cooks as good as she sings and this recipe for Schlap Happy Bars is just the first of many recipes that I plan to enjoy from her collection of recipes. I hope you love them too!
Schlap Happy Bars
2015-09-01 14:10:04
Ingredients
3/4 cup white sugar
3/4 cup brown sugar
2 sticks butter softened to room temp
2 eggs
2 1/4 cup flour
2 tsp. vanilla
1 cup semi-sweet chocolate chips
1 cup butterscotch chips
1 10oz. pkg. toffee bars chopped
Instructions
Begin by putting the toffee bars in a food processor and pulsing for a minute or two until the bars are chopped into small chunks. Remove and set aside.
In a stand mixer whisk the butter, sugar, vanilla and eggs until smooth. Gradually add the flour. Change to the paddle attachment and blend the candy into the dough. If you are using a hand mixer simply stir in the candy gently to blend.
Grease a 9 x 13 pan and spread the dough out. It will be thick and I had to use a butter knife to get a smooth finish around the sides of the pan.
Bake at 375 degrees for 20-25 minutes or until the bars begin to brown around the edges. Let cool before slicing.
Adapted from Kimberly Schlapman
My Mother's Daughter http://mymothersdaughter.net/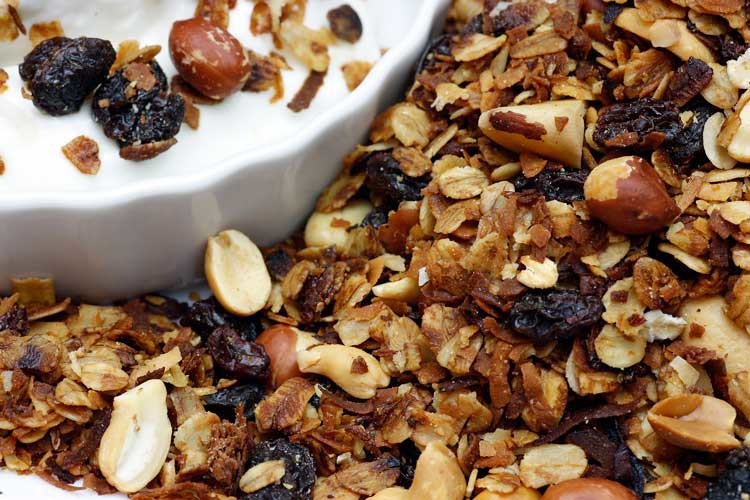 I make this super Easy Nutty Granola every other week or so and keep it in an airtight container in my refrigerator at ALL times. Every morning I fix our "breakfast to go" containers and we take them with us to work. You'll find non-fat greek yogurt with a drizzle of honey and some nutty granola on top if you look inside of mine. My husband prefers a sweeter version so he gets vanilla yogurt with granola. This granola is slightly sweet, just a little salty from the nuts and it has a whole lot of crunch which is what I love. Most importantly, it is packed full of protein…it really holds me until lunch rolls around.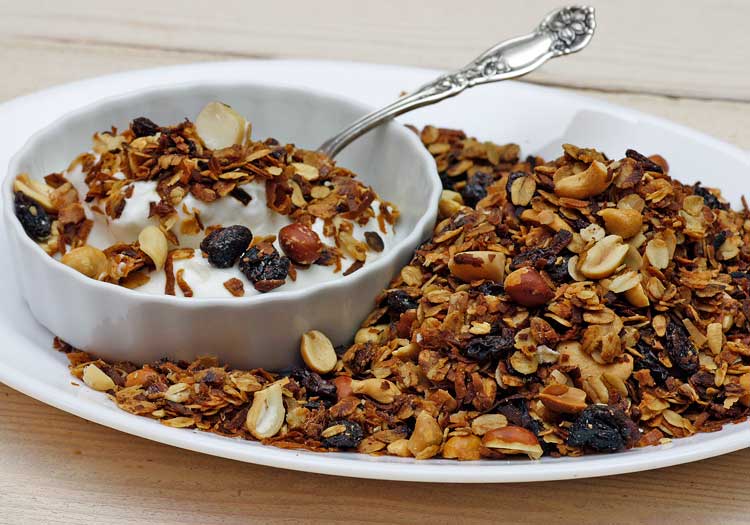 If I happen to be out of yogurt or just feel like a change, it's great as a cereal with a little milk and a squirt of honey. I finally started buying those packs of little milk bottles at Sam's so I can just grab a milk bottle with my container of granola and take my breakfast to go this way too. FYI, those milk bottles freeze beautifully if you see the expiration date creeping up before you've used them up.
When I come home from work and need just a little somethin' to munch on before dinner? A handful of granola always seems to hit the spot.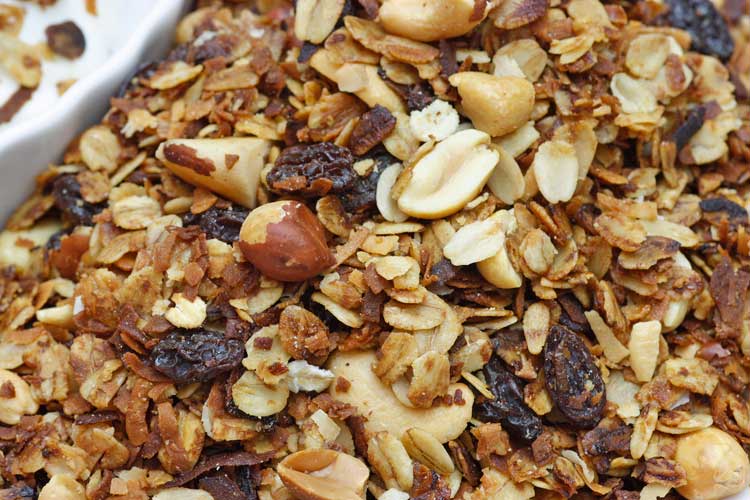 I keep a big container of mixed nuts in my freezer and it holds a wonderful selection of crunch – pecans, peanuts, cashews and macadamia nuts. When I'm making my granola I simply scoop out a heaping cup, give them a rough chop on my cutting board and toss them into the "base" with another cup of raisins.
So check it out, once you've made it a couple of times it's effortless. I started off using Ina Garten's "base" for the granola and then customized it to suit my taste – you can do the same. This is just what I like – get creative!
Easy Nutty Granola
2015-08-22 07:56:51
Ingredients
3/4 cup canola oil
1/2 cup honey
4 cups oatmeal
2 cups coconut
1 1/2 cup mixed nuts roughly chopped
1 cup raisins or dried cranberries
Instructions
Preheat the oven to 350 degrees and prepare a baking sheet by lining it with parchment paper allowing the paper to hang over the edges a little, this will make it easy to grab and pour the granola later.
In large bowl whisk the oil and honey together, add the oatmeal and coconut and blend gently. Spread the granola on the baking sheet and then add the nuts and raisins to the bowl - set the bowl aside.
Bake the granola for 20 minutes then turn the granola with a spatula to prevent burning. Bake for another 15 minutes and give it another toss. Bake for another 5 minutes and then pull from the oven. You want to add the granola to the bowl while it's hot so that it can roast the nuts a little bit. Carefully hold the parchment paper around the edges and pour the granola into the bowl. Stir until everything is mixed together, let cool.
My Mother's Daughter http://mymothersdaughter.net/